IMPORTANT When topping up take care not to confuse the various types of fluids: they are all incompatible with one another and could seriously damage the car.
IMPORTANT Never smoke while working in the engine compartment: gas and inflammable vapours may be present, with the risk of fire.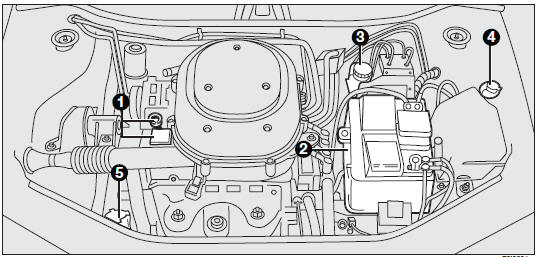 1.28V version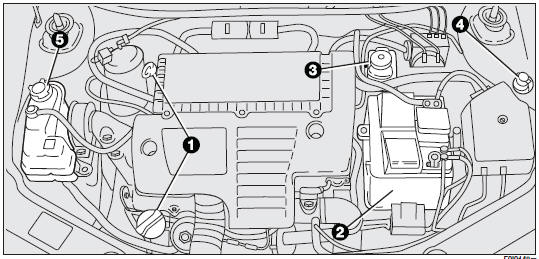 1.3 Multijet version
1 Engine oil
2 Battery
3 Brake fluid
4 Windscreen/rear window/headlight washer fluid
5 Engine coolant
See also:
Protection from atmospheric agents
The main causes of corrosion are the following: ❒ atmospheric pollution; ❒ salty air and humidity (coastal areas, or hot humid climates); ❒ seasonal environment conditions. No ...
Body Lubrication
Locks and all body pivot points, including such items as seat tracks, door hinge pivot points and rollers, liftgate, tailgate, sliding doors and hood hinges, should be lubricated periodically with ...
Automatic Transmission – If Equipped
The shift lever must be in the PARK or NEUTRAL position before you can start the engine. Apply the brakes before shifting to any driving gear. NOTE: You must press the brake pedal before shifting ...