IMPORTANT When topping up take care not to confuse the various types of fluids: they are all incompatible with one another and could seriously damage the car.
IMPORTANT Never smoke while working in the engine compartment: gas and inflammable vapours may be present, with the risk of fire.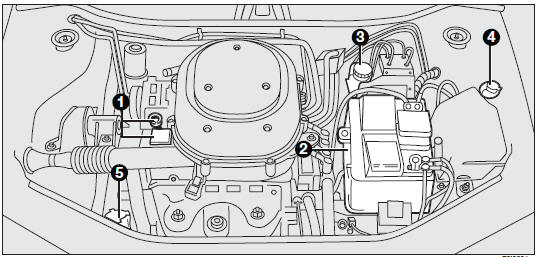 1.28V version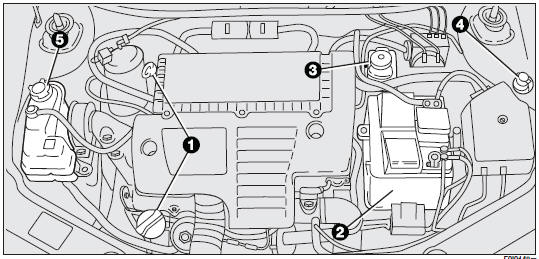 1.3 Multijet version
1 Engine oil
2 Battery
3 Brake fluid
4 Windscreen/rear window/headlight washer fluid
5 Engine coolant
See also:
Stopping the engine
Turn the key to STOP while the engine is idling. A quick burst on the accelerator before turning off the engine serves absolutely no practical purpose and wastes fuel. IMPORTANT After a taxing ...
22. Electronic Stability Control (ESC) Activation /Malfunction Indicator Light
The ESC Activation/Malfunction Indicator Light in the instrument cluster will come on for four seconds when the ignition switch is turned to the ON/RUN position. If the ESC Activation/Malfunctio ...
Battery
The battery is of the "Limited maintenance" type: under normal conditions of use the electrolyte does not need topping up with distilled water. ...