IMPORTANT When topping up take care not to confuse the various types of fluids: they are all incompatible with one another and could seriously damage the car.
IMPORTANT Never smoke while working in the engine compartment: gas and inflammable vapours may be present, with the risk of fire.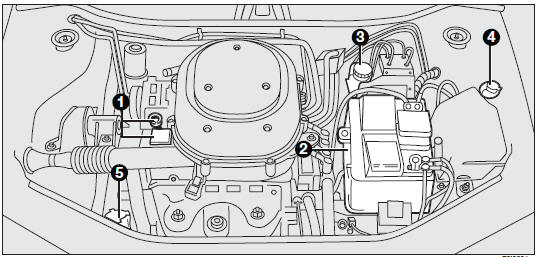 1.28V version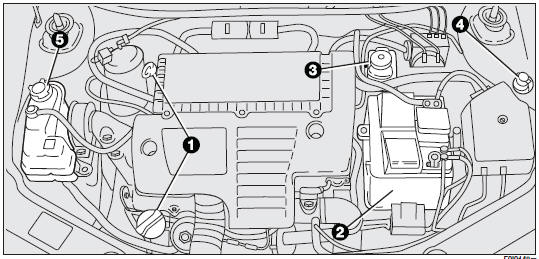 1.3 Multijet version
1 Engine oil
2 Battery
3 Brake fluid
4 Windscreen/rear window/headlight washer fluid
5 Engine coolant
See also:
Reformulated Gasoline
Many areas of the country require the use of cleaner burning gasoline referred to as "Reformulated Gasoline." Reformulated gasoline contains oxygenates and are specifically blended to reduce vehic ...
(B) Setting Up To Use TIREFIT
1. Turn the Mode Select Knob (5) to the Sealant Mode position. 2. Uncoil the Sealant Hose (6) and then remove the cap from the fitting at the end of the hose. 3. Place the TIREFIT kit flat on the ...
Battery
The battery is of the "Limited maintenance" type: under normal conditions of use the electrolyte does not need topping up with distilled water. CHECKING THE CHARGE fig. 22 The battery charge may b ...