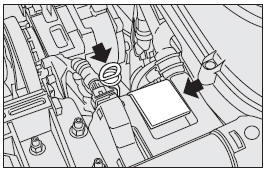 1.28V versions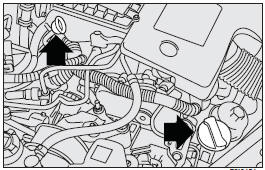 1.3 Multijet versions
Checking engine oil
Check the oil level a few minutes (about 5) after the engine has stopped, with the car parked on level ground.
Check that the level is within the MIN and MAX marks on the dipstick. The interval between the MIN and MAX marks corresponds to about one litre of oil.
Topping up engine oil
If the oil level is near or even below the MIN mark, add oil through the filler neck, until reaching the MAX mark. Oil level shall never exceed the MAX mark.
IMPORTANT If a routine check reveals that the oil level is above the MAX mark, contact Fiat Dealership to have the correct level restored. IMPORTANT After adding or changing the oil, let the engine turn over for a few seconds and wait a few minutes after turning it off before you check the level.
Engine oil consumption
Max engine oil consumption is usually 400 grams every 1000 km.
When the car is new, the engine needs to run in, therefore the engine oil consumption can only be considered stabilised after the first 5000 - 6000 km.
IMPORTANT The oil consumption depends on driving style and the conditions under which the car is used.
IMPORTANT Do not add oil with specifications other than that already in the engine.
WARNING
When the engine is hot, take care when working inside the engine compartment to avoid burns. Remember that when the engine is hot, the fan may cut in: danger of injury. Scarves, ties and other loose clothing might be pulled by moving parts.
Used engine oil and filter contain harmful substances for the environment. Contact Fiat Dealership to have the oil and filter changed.
See also:
Front ceiling light
With toggling lens The light will come on automatically when a front door is opened and go out when the door is closed. Press the short side of the lens to switch the light on and off when the d ...
26. Odometer / Trip Odometer / Electronic VehicleInformation Center (EVIC) Display Area
This display indicates the total distance the vehicle has been driven. U.S. Federal regulations require that upon transfer of vehicle ownership, the seller certify to the purchaser the correct mile ...
Fuel Requirements
Your vehicle is designed to meet all emission regulations and provide satisfactory fuel economy and performance when using high-quality unleaded gasoline having an octane range of 87 to 91. The ...