Press button h. Each pulse on the button will obtain increase by one unit. Automatic fast increase is obtained by keeping the button pressed for few seconds. When you are near the required value, release the button and complete adjustment with single presses.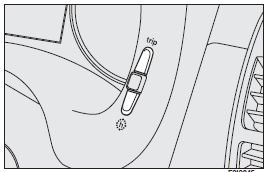 See also:
Key Ignition Park Interlock
This vehicle is equipped with a Key Ignition Park Interlock which requires the shift lever to be placed in PARK prior to rotating the key fob to the LOCK/OFF position. The key fob can only be remov ...
Diesel engines
If the outside temperature is very low, the diesel thickens due to the formation of paraffins and could clog the diesel fuel filter. In order to avoid these problems, different types of diesel are ...
Left-hand direction indicator
(green - intermittent) The warning light turns on when the direction indicator control lever is moved downwards or, together with the right indicator, when the hazard warning light button is pr ...