Press button h. Each pulse on the button will obtain increase by one unit. Automatic fast increase is obtained by keeping the button pressed for few seconds. When you are near the required value, release the button and complete adjustment with single presses.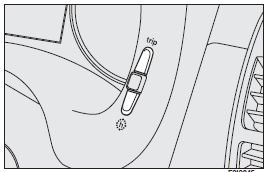 See also:
Engine coolant fluid
The coolant level shall be checked with cold engine and shall be included between the MIN and MAX mark on the reservoir. If the level is low, pour slowly a mixture of 50% distilled water and 50 ...
General Information
This device complies with Part 15 of FCC rules and with RS-210 of Industry Canada. Operation is subject to the following conditions: 1. This device may not cause harmful interference. 2. This dev ...
Starting Procedures
Before starting your vehicle, adjust your seat, adjust both inside and outside mirrors, and fasten your seat belts. WARNING! Never leave children in the vehicle alone. Leaving unattended children ...