Press button h. Each pulse on the button will obtain increase by one unit. Automatic fast increase is obtained by keeping the button pressed for few seconds. When you are near the required value, release the button and complete adjustment with single presses.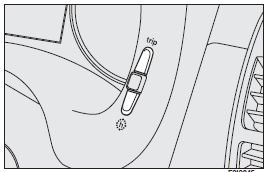 See also:
9. Air Bag Warning Light
This light will turn on for four seconds as a bulb check when the ignition switch is first turned to ON/RUN. If the light is either not on during starting, stays on, or turns on while driving, h ...
Operating Tips
Window Fogging Windows will fog on the inside when the humidity inside the vehicle is high. This often occurs in mild or cool temperatures when it's rainy or humid. In most cases, turning the air ...
Body and underbody warranty
Your Fiat Punto is covered by warranty against perforation due to rust of any original element of the structure or body. For the general terms of this warranty, refer to Warranty Booklet booklet. ...