Press button h. Each pulse on the button will obtain increase by one unit. Automatic fast increase is obtained by keeping the button pressed for few seconds. When you are near the required value, release the button and complete adjustment with single presses.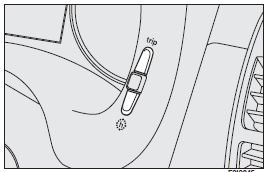 See also:
Engine
...
Downshifting
Proper downshifting will improve fuel economy and prolong engine life. CAUTION! If you skip more than one gear while downshifting or downshift at too high a vehicle speed, you could damage the en ...
Accessories purchased by the owner
If after buying the car, you decide to install electrical accessories that require a permanent electric supply (alarm, satellite antitheft system, etc.) or accessories that in any case burden the ...