Press button h. Each pulse on the button will obtain increase by one unit. Automatic fast increase is obtained by keeping the button pressed for few seconds. When you are near the required value, release the button and complete adjustment with single presses.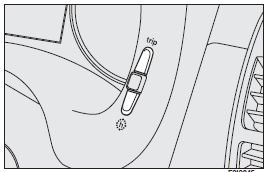 See also:
Lower vents
(C) - (D) Fixed vents for conveying air to the footwell. ...
Headlight slant adjusting device
The car is fitted with electric headlight slant adjusting device working with ignition key to MAR and dipped beams on. When the car is loaded, it slopes backwards. This means that the headlight b ...
Air cleaner
REPLACING THE FILTER 1.28V version Loosen the screws on the side and on the air cleaner cover, remove the cover (A) and remove the filtering element (B) to be replaced. 1.3 Multijet versions L ...