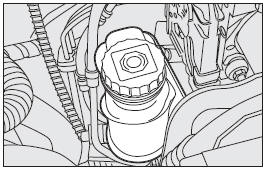 Unscrew cap and check that the fluid level in the reservoir is at maximum.
Fluid level in the reservoir shall not exceed the MAX mark.
If fluid has to be added, it is suggested to use the brake fluid in table "Fluids and lubricants" (see chapter "Technical specifications"). When opening cap take the utmost care to prevent impurities entering the tank. For topping up, always use a funnel with integrated filter with mesh equal to or lower than 0.12 mm.
IMPORTANT Brake fluid absorbs moisture; for this reason, if the car is mainly used in areas with a high degree of atmospheric humidity, the fluid should be replaced at more frequent intervals than specified in the "Service schedule".
Make sure that the highly corrosive brake fluid does not drip onto the paintwork. If it does, wash it off immediately with water.
WARNING
Brake fluid is poisonous and highly corrosive. In the event of accidental contact, wash the parts involved immediately with neutral soap and water, then rinse thoroughly. Call the doctor immediately if the fluid is swallowed.
WARNING
The symbol

on the container indicates synthetic brake fluid, distinguishing it from the mineral kind. Using mineral fluids irreversibly damages the special braking system rubber seals.
See also:
Inflating procedure
Put on the protection gloves provided together with quick tyre repair kit. – Pull up the handbrake. Loosen tyre inflation valve cap, take out the filler hose A-fig. 16c and screw the ring nut B-fi ...
Headlights
ADJUSTING THE HEADLIGHT BEAM The correct positioning of the headlight beams is very important for the comfort and safety, not only of the person driving the vehicle but also all other road users. ...
Engine Oil Filter
The engine oil filter should be replaced with a new filter at every engine oil change. Engine Oil Filter Selection All of this manufacturer's engines have a full-flow type disposable oil filter. ...