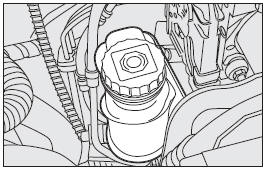 Unscrew cap and check that the fluid level in the reservoir is at maximum.
Fluid level in the reservoir shall not exceed the MAX mark.
If fluid has to be added, it is suggested to use the brake fluid in table "Fluids and lubricants" (see chapter "Technical specifications"). When opening cap take the utmost care to prevent impurities entering the tank. For topping up, always use a funnel with integrated filter with mesh equal to or lower than 0.12 mm.
IMPORTANT Brake fluid absorbs moisture; for this reason, if the car is mainly used in areas with a high degree of atmospheric humidity, the fluid should be replaced at more frequent intervals than specified in the "Service schedule".
Make sure that the highly corrosive brake fluid does not drip onto the paintwork. If it does, wash it off immediately with water.
WARNING
Brake fluid is poisonous and highly corrosive. In the event of accidental contact, wash the parts involved immediately with neutral soap and water, then rinse thoroughly. Call the doctor immediately if the fluid is swallowed.
WARNING
The symbol

on the container indicates synthetic brake fluid, distinguishing it from the mineral kind. Using mineral fluids irreversibly damages the special braking system rubber seals.
See also:
Dipped beam headlights
Turn the knurled ring to . The warning light on the instrument cluster will come on. With dipped beam and front fog lights on, turning on the main beam headlights will turn off automatically ...
QUICK WINDSCREEN AND FRONT SIDE WINDOW DEMISTING/DEFROSTING (MAX-DEF function)
Proceed as follows: ❒ turn knob (A) to ; ❒ turn knob (C) to 4 ; ❒ turn knob (D) to ❒ slider (B) at . After demisting/defrosting, operate the controls to restore the r ...
Lap/Shoulder Belts
All the seating positions in your vehicle are equipped with combination lap/shoulder belts. The belt webbing retractor is designed to lock during very sudden stops or accidents. This feature allo ...