This gauge shows the temperature of the engine coolant fluid and begins working when the fluid temperature exceeds approx. 50 °C.
Under normal conditions, the needle should move to different positions of the scale according to the working conditions and engine cooling conditions.
C - Low engine coolant temperature

H- High engine coolant temperature
Warning light B-fig. 35 - 37 comes on (on certain versions with the dedicated message on the reconfigurable multifunction display) to indicate that engine coolant temperature is too high; in this event stop the engine and contact Fiat Dealership.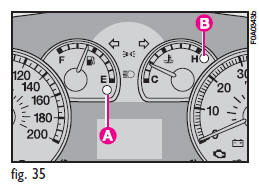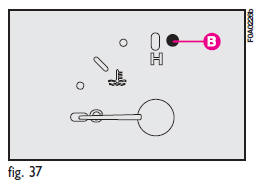 If the needle reaches the red area, stop the engine immediately and contact a Fiat Dealership.
See also:
Quick heating
Proceed as follows: ❒ close all dashboard vents; ❒ turn knob (A) to ; ❒ turn knob (C) to 4 ; ❒ turn knob (D) to . ...
Parking Brake
Before leaving the vehicle, make sure that the parking brake is fully applied. Also, be certain to leave manual transmission in REVERSE or first gear. The parking brake lever is located in the cent ...
Tire Identification Number (TIN)
The TIN may be found on one or both sides of the tire, however, the date code may only be on one side. Tires with white sidewalls will have the full TIN, including the date code, located on the wh ...