This gauge shows the temperature of the engine coolant fluid and begins working when the fluid temperature exceeds approx. 50 °C.
Under normal conditions, the needle should move to different positions of the scale according to the working conditions and engine cooling conditions.
C - Low engine coolant temperature

H- High engine coolant temperature
Warning light B-fig. 35 - 37 comes on (on certain versions with the dedicated message on the reconfigurable multifunction display) to indicate that engine coolant temperature is too high; in this event stop the engine and contact Fiat Dealership.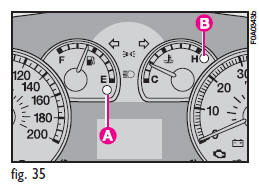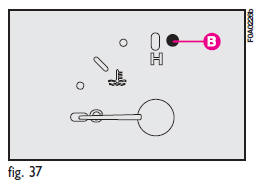 If the needle reaches the red area, stop the engine immediately and contact a Fiat Dealership.
See also:
Traction
When driving on wet or slushy roads, it is possible for a wedge of water to build up between the tire and road surface. This is known as hydroplaning and may cause partial or complete loss of vehi ...
If an interior light burns out
For the type of bulb and power rating, see "When needing to change a bulb". ...
ABS
The vehicle can be fitted with an ABS braking system, which prevents the wheels from locking when braking, makes the most of road grip and gives the best control when emergency braking under diffi ...