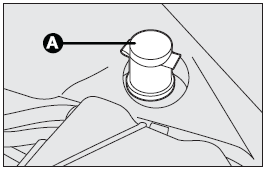 To top up, remove the cap (A) and then pour a mixture of water and TUTELA PROFESSIONAL SC 35, in the following concentrations:
❒ 30% TUTELA PROFESSIONAL SC 35 and 70% water in summer;
❒ 50% TUTELA PROFESSIONAL SC 35 and 50% water in winter.
In case of temperatures below –20°C, use undiluted TUTELA PROFESSIONAL SC 35.
Check level through the reservoir.
WARNING
Do not travel with the windscreen washer reservoir empty: the windscreen washer is fundamental for improving visibility.
WARNING
Certain commercial additives for windscreen washers are inflammable. The engine compartment contains hot components which may set it on fire.
See also:
Base System
This is the TPMS warning indicator located in the instrument cluster. The TPMS uses wireless technology with wheel rim mounted electronic sensors to monitor tire pressure levels. Sensors, mounte ...
Vehicle Modifications/Alterations
WARNING! Any modifications or alterations to this vehicle could seriously affect its roadworthiness and safety and may lead to an accident resulting in serious injury or death. ...
Identification data
You are advised to note the identification codes. The identification data stamped and given on the plates and their position are the following: 1 - Model plate 2 - Chassis marking 3 - Bodywork ...