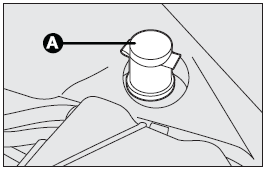 To top up, remove the cap (A) and then pour a mixture of water and TUTELA PROFESSIONAL SC 35, in the following concentrations:
❒ 30% TUTELA PROFESSIONAL SC 35 and 70% water in summer;
❒ 50% TUTELA PROFESSIONAL SC 35 and 50% water in winter.
In case of temperatures below –20°C, use undiluted TUTELA PROFESSIONAL SC 35.
Check level through the reservoir.
WARNING
Do not travel with the windscreen washer reservoir empty: the windscreen washer is fundamental for improving visibility.
WARNING
Certain commercial additives for windscreen washers are inflammable. The engine compartment contains hot components which may set it on fire.
See also:
Instrument Panel Bezels
CAUTION! When installing hanging air fresheners in your vehicle, read the installation instructions carefully. Some air fresheners will damage the finish of painted or decorated parts if allowed ...
Structure
Self-supporting chassis, three or five doors, high-resistance, multiple thickness structural elements for progressive energy absorption in impacts. Side bars in doors for side impact protection and ...
Important notes
For towing caravans or trailers the car must be fitted with a certified tow hook and an adequate electric system. Installation should be carried out by specialised personnel who release a special ...