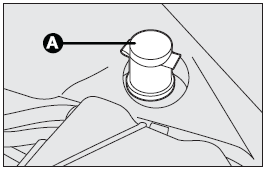 To top up, remove the cap (A) and then pour a mixture of water and TUTELA PROFESSIONAL SC 35, in the following concentrations:
❒ 30% TUTELA PROFESSIONAL SC 35 and 70% water in summer;
❒ 50% TUTELA PROFESSIONAL SC 35 and 50% water in winter.
In case of temperatures below Ц20∞C, use undiluted TUTELA PROFESSIONAL SC 35.
Check level through the reservoir.
WARNING
Do not travel with the windscreen washer reservoir empty: the windscreen washer is fundamental for improving visibility.
WARNING
Certain commercial additives for windscreen washers are inflammable. The engine compartment contains hot components which may set it on fire.
See also:
Front Fog Lights Ч If Equipped
The fog light switch is located on the center stack of the instrument panel, just below the radio. Fog Light Switch Press the switch once to turn the front fog lights on. Press the switch a sec ...
How to keep the seatbelts in proper working order at all times
1) When wearing the seat belts, always ensure they are not twisted and are free to wind in and out. 2) Following a serious accident, replace the belt being worn at that time, even if it does not ...
Set clock (Clock Adjust.)
During setting, the clock is displayed in 24h mode regardless of the set clock mode (12h/24h). To set the clock (hours - minutes) proceed as follows: ...