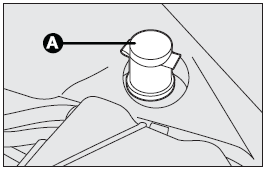 To top up, remove the cap (A) and then pour a mixture of water and TUTELA PROFESSIONAL SC 35, in the following concentrations:
❒ 30% TUTELA PROFESSIONAL SC 35 and 70% water in summer;
❒ 50% TUTELA PROFESSIONAL SC 35 and 50% water in winter.
In case of temperatures below –20°C, use undiluted TUTELA PROFESSIONAL SC 35.
Check level through the reservoir.
WARNING
Do not travel with the windscreen washer reservoir empty: the windscreen washer is fundamental for improving visibility.
WARNING
Certain commercial additives for windscreen washers are inflammable. The engine compartment contains hot components which may set it on fire.
See also:
Anchoring the load
A boot mat is provided (optional for Fiat Doblò Cargo base versions). To fasten the load, fastening hooks are provided (quantity varying according to versions) fig. 132 secured to the floor ...
Materials Added To Fuel
All gasoline sold in the United States is required to contain effective detergent additives. Use of additional detergents or other additives is not needed under normal conditions and would result ...
Front seat belt height adjustment
Always adjust the height of the seat belt to fit the person wearing it. This precaution could greatly reduce the risk of injury in case of collision. Correct adjustment is obtained when the belt ...