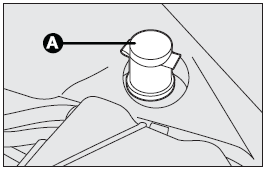 To top up, remove the cap (A) and then pour a mixture of water and TUTELA PROFESSIONAL SC 35, in the following concentrations:
❒ 30% TUTELA PROFESSIONAL SC 35 and 70% water in summer;
❒ 50% TUTELA PROFESSIONAL SC 35 and 50% water in winter.
In case of temperatures below –20°C, use undiluted TUTELA PROFESSIONAL SC 35.
Check level through the reservoir.
WARNING
Do not travel with the windscreen washer reservoir empty: the windscreen washer is fundamental for improving visibility.
WARNING
Certain commercial additives for windscreen washers are inflammable. The engine compartment contains hot components which may set it on fire.
See also:
SOUND system
Large oddment compartments in the dashboard and doors which make the passenger compartment even more comfortable can be fond in cars not equipped with a sound system set-up. A specific kit can be ...
External lights
The left-hand stalk controls the external lights and the direction indicators. The external lights can only be switched on when the ignition key is at MAR. ...
Fuel Requirements
Your vehicle is designed to meet all emission regulations and provide satisfactory fuel economy and performance when using high-quality unleaded gasoline having an octane range of 87 to 91. The ...