Max engine oil consumption is usually 400 grams every 1000 km.
During the beginning of the vehicle's life the engine is be tuned in. Engine oil consumption can only be considered stabilized after the first 5000 ÷ 6000 km.
IMPORTANT
Oil consumption depends on the driving style and the conditions of use.

Used engine oil and replaced oil filters contain substances which can harm the environment. We recommend you have the vehicle seen to at a Fiat Dealership for the oil and filter change. It is suitably equipped for disposing of used oil and filters in an environmentally- friendly way that complies with the law.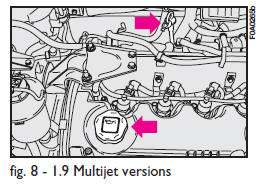 ENGINE COOLANT fig. 11
The coolant level shall be checked with cold engine and shall be within the MIN and MAX marks on the tank.
If the level is low, pour slowly a mixture of 50% distilled water and 50% PARA FLU UP of the FL Selenia Group through the filler neck until the level reaches MAX.
A 50-50 mixture of PARA FLU UP and distilled water gives freeze protection to –35°C.
For particularly hard climate conditions, we recommend use of a 60% PARA FLU UP and 40% demineralized water mixture.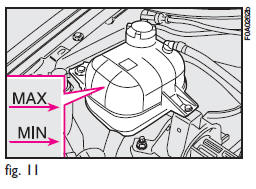 The engine cooling system uses protective antifreeze fluid PARA FLU UP. Use the same fluid type as that already in the cooling system when topping up. PARA FLU UP fluid cannot be mixed with any other type of fluid. Should it happen, under no circumstances start the engine; contact a Fiat Dealership.
See also:
Engine marking
Engine marking is stamped on the crankcase on gearbox side and includes the model and the chassis number. ...
Audio repetition (Audio Rpt.) (where provided)
With this function the display repeats information relevant to the Radio (selected radio station frequency or RDS message, automatic tuning or AutoSTore), audio CD (track number). ...
Steering wheel
On certain versions the steering wheel can be adjusted in height. Proceed as follows: ❒ move lever (A) to position (1); ❒ adjust the steering wheel; ❒ refit the lever to po ...