HAZARD LIGHTS fig. 92
They turn on by pressing switch A, regardless of the position of the ignition key.
When the lights are on, the switch and the instrument panel warning light

will flash.
Press the switch again to turn the lights off.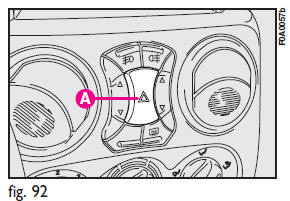 The use of hazard lights is governed by the Highway Code of the country you are in. Keep to the rules.
CONTROL BUTTONS fig. 93
The buttons are located between the central air vents.
The controls can only be operated when the ignition key is at MAR.
A - Front foglight button.
B - Rear foglight button.
C - Heated rear window on/off button.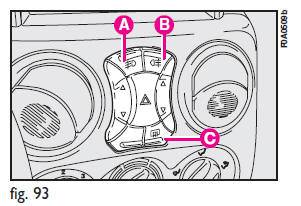 IMPORTANT
The dipped beam headlights will automatically be switched off when the main beam headlights are switched on if the front fog lights are on.
The dipped beam headlights and/or the front foglights (if fitted) must be on to switch rear foglights on.
The rear fog lights are switched off either by pressing C or switching on the main beam headlights or turning the ignition key to STOP. You will need to switch the rear foglights back on, if required, when the dipped beam headlights and/or front foglights are switched on or when the engine is started again.
FUEL CUT-OFF SWITCH
This safety switch is located under the dashboard on the right-hand side and can be reached through the slot as shown in fig. 94, It comes into operation in the case of an accident to block the supply of fuel thereby stopping the engine.


If, after a crash, you smell fuel or see leaks from the fuel system, do not reset the switch to avoid fire risk.
Press button A to reactivate the fuel supply system if you cannot see any fuel leaks and the vehicle is in a fit state to continue its journey.
Remember to turn the ignition key to STOP to avoid running the battery down.
See also:
Front passenger's airbag deactivated
(amber) Warning light comes on when front passenger's air bag is deactivated. With front passenger's air bag on, turning the ignition key to MAR, warning light comes on steadily for about 4 s ...
Front sidelights
To change the bulb, proceed as follows: 1) Remove the protection cover B-fig. 18 turning it counterclockwise; 2) Press tabs A-fig. 21, remove the bulb holder from housing B and remove the bulb C ...
Refuelling
To ensure full tank refuelling, carry out two top-up operations once the delivery gun has turned off twice. Avoid further top-up operations which could cause faults in the fuel system. The car mu ...