Folding the seat back
Lift lever A-fig. 54 to fold the seat back and obtain a tabletop.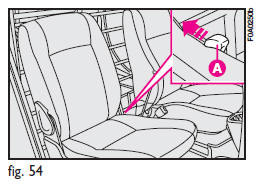 Tipping the seat
To tip the seat and make more space in the passenger compartment proceed as follows:
Ц tip the seat as described previously;
Ц use lever B-fig. 55 to tip the whole seat forward;
Ц lock the seat using the special rod A-fig. 56 and fitting it into slot B on the seat.
To return the seat to normal position, release rod A and then raise the seat.
IMPORTANT
When folded, the seat shall be anchored by the proper rod С to prevent its violent returning to original position when accelerating.