Folding the seat back
Lift lever A-fig. 54 to fold the seat back and obtain a tabletop.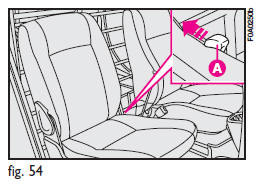 Tipping the seat
To tip the seat and make more space in the passenger compartment proceed as follows:
Ц tip the seat as described previously;
Ц use lever B-fig. 55 to tip the whole seat forward;
Ц lock the seat using the special rod A-fig. 56 and fitting it into slot B on the seat.
To return the seat to normal position, release rod A and then raise the seat.
IMPORTANT
When folded, the seat shall be anchored by the proper rod С to prevent its violent returning to original position when accelerating.
See also:
Door lockremote control
The remote control is built into the ignition key. Press button A-fig. 4 to lock and unlock the doors. Press button A to operate the system. LED B (where required) will flash while the transmitter ...
Electronic control units
When the vehicle is being used normally, special measures are not necessary. The following instructions must be followed very carefully, however, if you work on the electrical system or in cases wh ...
Cellular phone set-up
The system set-up consists of: Ц a dual-purpose aerial (sound system + cellular phone), on the vehicle roof; Ц a dual-purpose aerial connection wires and ten-pin connector wiring fig. 146. Ц a do ...