Clean the rubber edges of the wiper blades and the windshield periodically with a sponge or soft cloth and a mild, nonabrasive cleaner or use the washer solvent. This will remove accumulations of salt, waxes or road film and help reduce streaking and smearing.
Operation of the wipers on dry glass for long periods may cause deterioration of the wiper blades. Always use washer fluid when using the wipers to remove salt or dirt from a dry windshield. Avoid using the wiper blades to remove frost or ice from the windshield. Make sure that they are not frozen to the glass before turning them on to avoid damaging the blade. Keep the blade rubber out of contact with petroleum products such as engine oil, gasoline, etc.

NOTE: Life expectancy of wiper blades varies depending on geographical area and frequency of use. Poor performance of blades may be present with chattering, marks, water lines or wet spots. If any of these conditions are present, clean the wiper blades or replace as necessary.
Rear Wiper Blade Removal/Installation
1. Lift the pivot cap on the rear wiper arm upward, this will allow the rear wiper blade to be raised off of the liftgate glass.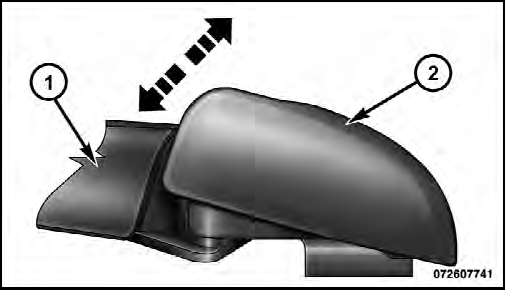 1 Ч Wiper Arm
2 Ч Pivot Cap

NOTE: The rear wiper arm cannot be raised fully upward unless the pivot cap is raised first.
2. Lift the rear wiper arm upward to raise the wiper blade off of the liftgate glass.
3. Grab the bottom of the wiper blade and rotate it forward to unsnap the blade pivot pin from the wiper blade holder.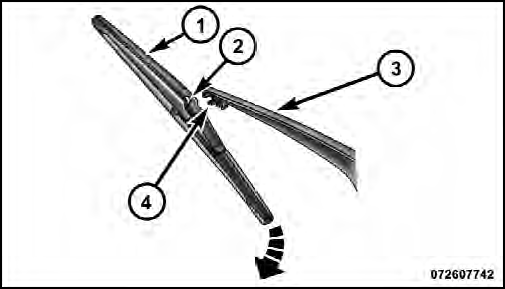 1 Ч Wiper Blade
2 Ч Blade Pivot Pin
3 Ч Wiper Arm
4 Ч Wiper Blade Holder
4. Install the wiper blade pivot pin into the wiper blade holder at the end of the wiper arm, and firmly press the wiper blade until it snaps into place.
5. Lower the wiper blade and snap the pivot cap into place.
See also:
Parking
Proceed as follows: ❒ Stop the engine and engage the handbrake; ❒ Engage a gear (first if the car is faced uphill or reverse if it is faced downhill) and leave the wheels steered. B ...
Tire Markings
1 Ч U.S. DOT Safety Standards Code (TIN) 4 Ч Maximum Load 2 Ч Size Designation 5 Ч Maximum Pressure 3 Ч Service Description 6 Ч Treadwear, Traction and Temperature Grades NOTE: Х P (Passeng ...
Recirculation
Move slider (B) to . This function is particularly useful when the outside air is heavily polluted (in a traffic jam, tunnel, etc.). However, it is better not to use it for long periods, especial ...