When engaged, the Electronic Speed Control takes over accelerator operations at speeds greater than 25 mph (40 km/h).
The Electronic Speed Control buttons are located on the right side of the steering wheel.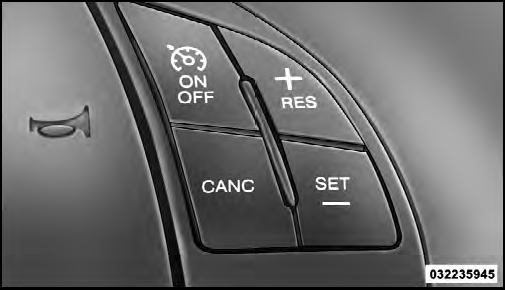 Speed Control Buttons

NOTE: In order to ensure proper operation, the Electronic Speed Control system has been designed to shut down if multiple Speed Control functions are operated at the same time. If this occurs, the Electronic Speed Control system can be reactivated by pushing the Electronic Speed Control ON/OFF button and resetting the desired vehicle set speed.
See also:
Emergency start-up
If the instrument panel warning light stays on with fixed light, the emergency start-up can be performed by using the CODE card code (see section "In an emergency"). ...
Fan speed adjustment
Proceed as follows: ❒ open completely central vents and side outlets; ❒ turn knob (A) to the blue sector; ❒ slider (B) at ; ❒ turn knob (C) to the required speed; ...
Model plate
The plate is to be found on the front crossmember of the engine compartment and bears the following identification data: A - Manufacturer' name. B - Homologation number. C - Vehicle type code. ...