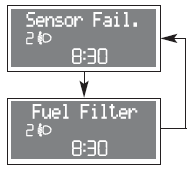 The warning light on the dial comes on (on certain versions together with the message on the display) when dieel fuel filter sensor failure is detected. Contact Fiat Dealership as soon as possible to have the fault removed.
See also:
Protection from atmospheric agents
The main causes of corrosion are the following: ❒ atmospheric pollution; ❒ salty air and humidity (coastal areas, or hot humid climates); ❒ seasonal environment conditions. No ...
Car inactivity
If the car is to be left inactive for longer than a month, the following precautions should be noted: ❒ park the car in covered, dry and if possible wellventilated premises; ❒ engage ...
Rear Tail, Stop, Backup And Turn Signal Lamps
1. Open the liftgate. 2. Remove the two screws and remove the tail lamp assembly. 3. Unsnap backplate and separate from the lamp housing. 4. Remove the tail, stop, or turn signal bulbs by pushing ...