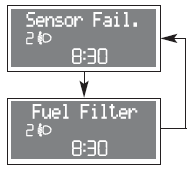 The warning light on the dial comes on (on certain versions together with the message on the display) when dieel fuel filter sensor failure is detected. Contact Fiat Dealership as soon as possible to have the fault removed.
See also:
Air Conditioning (A/C)
The Air Conditioning (A/C) button allows the operator to manually activate or deactivate the air conditioning system. When in A/C mode with the ATC set to a cool temperature, dehumidified air flow ...
9. Air Bag Warning Light
This light will turn on for four seconds as a bulb check when the ignition switch is first turned to ON/RUN. If the light is either not on during starting, stays on, or turns on while driving, h ...
Automatic Transmission – If Equipped
The Sport mode increases steering feedback to the driver with slight increase in effort and changes the transmission shift schedules for more aggressive shifting. This driving mode is useful while ...