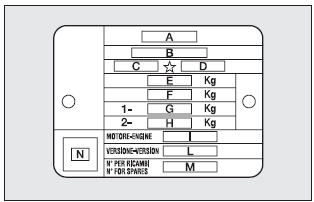 The plate is to be found on the front crossmember of the engine compartment and bears the following identification data:
A - Manufacturer' name.
B - Homologation number.
C - Vehicle type code.
D - Chassis number.
E - Maximum vehicle weight fully loaded.
F - Maximum vehicle weight fully loaded with trailer.
G - Maximum vehicle weight on front axle.
H - Maximum vehicle weight on rear axle.
I - Engine type.
L - Body version code.
M - Spare part code.
N - Smoke opacity index (for diesel engines).
See also:
GROUP 1
Starting from 9 kg to 18 kg in weight, children may be carried facing forwards, with seats fitted with front cushion, through which the car seat belt restrains both child and seat. WARNING Fig ...
Scheduled servicing
Correct maintenance is essential for ensuring long car life under the best conditions. This is why Fiat has programmed a series of checks and maintenance operations every 20,000 km. It is however i ...
General considerations
Vehicle maintenance The overall state of the vehicle is an important factor which has a marked influence over fuel consumption and driving comfort and on the life span of your vehicle. For this r ...