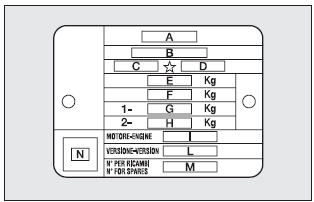 The plate is to be found on the front crossmember of the engine compartment and bears the following identification data:
A - Manufacturer' name.
B - Homologation number.
C - Vehicle type code.
D - Chassis number.
E - Maximum vehicle weight fully loaded.
F - Maximum vehicle weight fully loaded with trailer.
G - Maximum vehicle weight on front axle.
H - Maximum vehicle weight on rear axle.
I - Engine type.
L - Body version code.
M - Spare part code.
N - Smoke opacity index (for diesel engines).
See also:
If an interior light burns out
Modifications or repairs to the electrical system carried out incorrectly and without bearing the features of the system in mind can cause malfunctions with the risk of fire. See "If a bulb burn ...
Set date (Date Adjustm.)
To correct the date (year - month - day ) proceed as follows: ...
Special Care
• If you drive on salted or dusty roads or if you drive near the ocean, hose off the undercarriage at least once a month. • It is important that the drain holes in the lower edges of the doors, roc ...