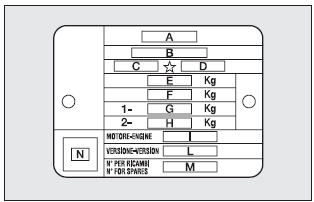 The plate is to be found on the front crossmember of the engine compartment and bears the following identification data:
A - Manufacturer' name.
B - Homologation number.
C - Vehicle type code.
D - Chassis number.
E - Maximum vehicle weight fully loaded.
F - Maximum vehicle weight fully loaded with trailer.
G - Maximum vehicle weight on front axle.
H - Maximum vehicle weight on rear axle.
I - Engine type.
L - Body version code.
M - Spare part code.
N - Smoke opacity index (for diesel engines).
See also:
Tire Rotation Recommendations
The tires on the front and rear of your vehicle operate at different loads and perform different steering, driving, and braking functions. For these reasons, they wear at unequal rates and tend to ...
Engine Oil
Checking Oil Level To assure proper engine lubrication, the engine oil must be maintained at the correct level. Check the oil level at regular intervals, such as every fuel stop. The best time to ...
Direction indicators
Push the lever to stable position: ❒ up (position 1): engage the right-hand direction indicator; ❒ down (position 2): engage the left-hand direction indicator. Warning light or w ...