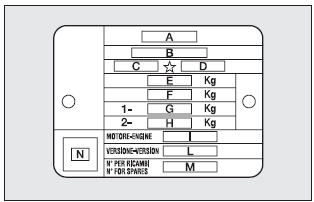 The plate is to be found on the front crossmember of the engine compartment and bears the following identification data:
A - Manufacturer' name.
B - Homologation number.
C - Vehicle type code.
D - Chassis number.
E - Maximum vehicle weight fully loaded.
F - Maximum vehicle weight fully loaded with trailer.
G - Maximum vehicle weight on front axle.
H - Maximum vehicle weight on rear axle.
I - Engine type.
L - Body version code.
M - Spare part code.
N - Smoke opacity index (for diesel engines).
See also:
Wheel And Wheel Trim Care
All wheels and wheel trim, especially aluminum and chrome-plated wheels, should be cleaned regularly with a mild soap and water to prevent corrosion. To remove heavy soil, use MOPAR Wheel Cleaner ...
Rear window shelf removal
Proceed as follows: ❒ release the upper ends (A) of the two tie-rods by removing the eyelets; ❒ release the shelf eyelets (B) from their recesses (C); ❒ move the shelf to ...
Required Maintenance Intervals
Refer to the Maintenance Schedules on the following pages for the required maintenance intervals. WARNING! • You can be badly injured working on or around a motor vehicle. D ...