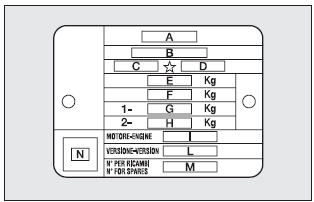 The plate is to be found on the front crossmember of the engine compartment and bears the following identification data:
A - Manufacturer' name.
B - Homologation number.
C - Vehicle type code.
D - Chassis number.
E - Maximum vehicle weight fully loaded.
F - Maximum vehicle weight fully loaded with trailer.
G - Maximum vehicle weight on front axle.
H - Maximum vehicle weight on rear axle.
I - Engine type.
L - Body version code.
M - Spare part code.
N - Smoke opacity index (for diesel engines).
See also:
The eco:Drive system
An innovative software program developed with Microsoft, called eco:Drive, is available to new Fiat Doblò drivers. The system uses the USB port to analyse the driving style helping the driv ...
Loose Fuel Filler Cap Message
After fuel has been added, the vehicle diagnostic system can determine if the fuel filler cap is possibly loose, improperly installed, or damaged. If the system detects a malfunction, the "gASCAP" ...
Service schedule
(*) Or every 3 years for particularly demanding use: - cold/hot climates; - driving in the city idling for a long time; - dusty roads or roads covered with sand and/or salt Or every 5 years, r ...