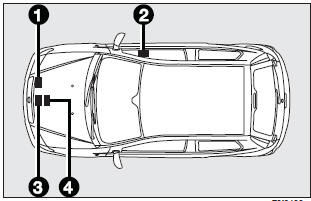 You are advised to note the identification codes. The identification data stamped and given on the plates and their position are the following:
1 - Model plate
2 - Chassis marking
3 - Bodywork paint identification plate
4 - Engine marking.
See also:
Changing the battery
If required, replace the battery with a genuine spare part having the same specifications. If a battery with different specifications is fitted, the service intervals given in the "Service schedule ...
EPS system operation
The ESP system is automatically inserted when the car is started and cannot be de-activated. ...
25. Temperature Gauge
The temperature digital scale shows engine coolant temperature. Any reading within the normal range indicates that the engine cooling system is operating satisfactorily. The gauge pointer will lik ...