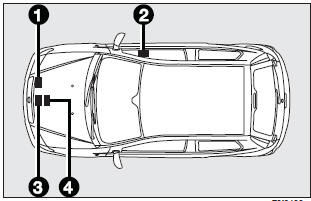 You are advised to note the identification codes. The identification data stamped and given on the plates and their position are the following:
1 - Model plate
2 - Chassis marking
3 - Bodywork paint identification plate
4 - Engine marking.
See also:
Panel Mode
Air comes from the outlets in the instrument panel. Each of these outlets can be individually adjusted to direct the flow of air. The air vanes of the center outlets and outboard outlets can be m ...
If an exterior light burns out
Alterations or repairs to the electric system not carried out correctly and without taking into account the system specifications may cause failures and the risk of fire. See "If a bulb burns ou ...
Front Turn Signal, Parking And Daytime RunningLamps
1. Turn the steering wheel completely to the left or right. 2. Open the wheel housing access door. 3. Remove the plastic cap from the back of the lamp housing. 4. Rotate bulb/socket counter-clock ...