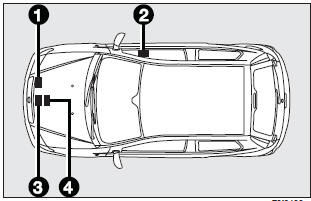 You are advised to note the identification codes. The identification data stamped and given on the plates and their position are the following:
1 - Model plate
2 - Chassis marking
3 - Bodywork paint identification plate
4 - Engine marking.
See also:
Low battery charge
Turning the key to MAR the warning light on the dial turns on, but it should go out as soon as the engine is started (with the engine running at idle speed a brief delay in going out is allowed) ...
Operation
When the shift lever is in the AutoStick position (to the left of the Drive position), it can be moved forward and rearward. This allows the driver to manually select the transmission gear being u ...
Cruise control
It is a device able to support the driver, with electronic control, which allows driving at speed over 30 km/h on long and straight dry roads (e.g.: motorways), at a desired speed, without pressin ...