Tread wear indicators are in the original equipment tires to help you in determining when your tires should be replaced.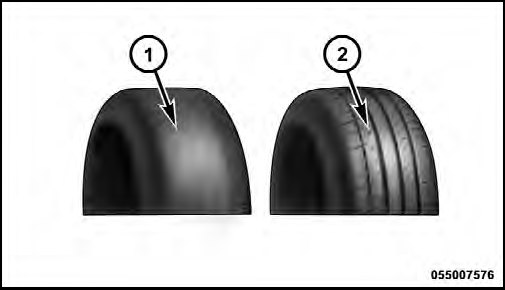 1 — Worn Tire
2 — New Tire
These indicators are molded into the bottom of the tread grooves. They will appear as bands when the tread depth becomes 1/16 in (2 mm). When the tread is worn to the tread wear indicators, the tire should be replaced.
See also:
Front passenger air bag deactivated
Warning light comes on on the dial when front passenger air bag is deactivated. With front passenger air bag on, turning the ignition key to MAR, warning light comes on flashing on the cluster fo ...
Rubber tubing
Follow the "Service Schedule" to the letter as concerns braking and fuel line rubber tubing. Ozone, high temperatures and long absence of fluid in the system can in fact cause the hardening and cr ...
12. Charging System Light
This light shows the status of the electrical charging system. The light should come on when the ignition switch is first turned to ON/RUN and remain on briefly as a bulb check. If the light sta ...