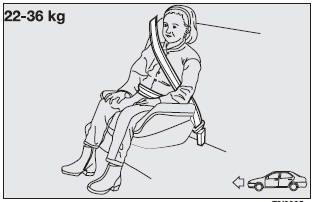 For children from 22 kg up to 36 kg the size of the child's chest no longer requires a support to space the child's back from the seat back.
The figure shows proper child seat positioning on the rear seat.
Children taller than 1.50 m can wear seat belts like adults.
WARNING
The figure is only an example for mounting. Attain to the instructions for fastening which must be enclosed with the specific child restraint system you are using.
See also:
ABS
The vehicle can be fitted with an ABS braking system, which prevents the wheels from locking when braking, makes the most of road grip and gives the best control when emergency braking under diffi ...
At the filling station
Make sure that the left-hand sliding side door is completely closed before refueling. You could damage the door and the sliding lock system which comes into play when the fuel flap is open. Y ...
ABS intervention
When braking a slight pulsing accompanied by noise may be felt on the brake pedal due to the action of the ABS system. WARNING The ABS exploits the tyre-road grip at the best, but it cannot improv ...