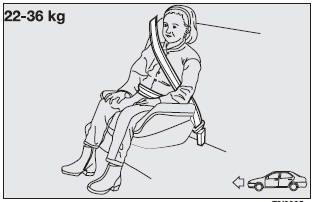 For children from 22 kg up to 36 kg the size of the child's chest no longer requires a support to space the child's back from the seat back.
The figure shows proper child seat positioning on the rear seat.
Children taller than 1.50 m can wear seat belts like adults.
WARNING
The figure is only an example for mounting. Attain to the instructions for fastening which must be enclosed with the specific child restraint system you are using.
See also:
If an exterior light burns out
Alterations or repairs to the electric system not carried out correctly and without taking into account the system specifications may cause failures and the risk of fire. See "If a bulb burns ou ...
Preparations For Jacking
1. Park the vehicle on a firm level surface, avoiding ice or slippery areas. WARNING! Do not attempt to change a tire on the side of the vehicle close to moving traffic, pull far enough off the r ...
Supplemental Seat-Mounted Side Air Bag (SAB)Inflator Units
The Supplemental Seat-Mounted Side Air Bags (SAB) are designed to activate only in certain side collisions. The ORC determines if a side collision requires the side air bags to inflate, based on ...