This system offers a full complement of manual override features.

NOTE: Each of these features operates independently from each other. If any feature is controlled manually, temperature control will continue to operate automatically.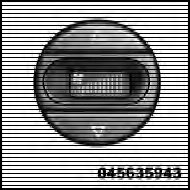 Blower Control
There are 12 fixed blower speeds. Use the blower control up or down buttons to regulate the amount of air forced through the system in any mode you select. The blower speed increases as you press or hold the blower control up button and decreases when you press or hold the blower control down button.
The blower fan speed can be set to any fixed speed by pressing the blower control up or down buttons. The fan will now operate at a fixed speed until additional speeds are selected. This allows the front occupants to control the volume of air circulated in the vehicle and cancel the AUTO mode.
The operator can also select the direction of the airflow by selecting one of the following positions.
See also:
Driving mirror
The mirror is fitted with a safety device that causes it to be released in the event of a violent crash. Using the lever (A) it can be moved to two different positions: normal or antiglare. WARN ...
CD/DVD Disc Maintenance
To keep a CD/DVD in good condition, take the following precautions: 1. Handle the disc by its edge; avoid touching the surface. 2. If the disc is stained, clean the surface with a soft cloth, wipin ...