This system offers a full complement of manual override features.

NOTE: Each of these features operates independently from each other. If any feature is controlled manually, temperature control will continue to operate automatically.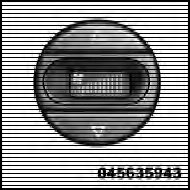 Blower Control
There are 12 fixed blower speeds. Use the blower control up or down buttons to regulate the amount of air forced through the system in any mode you select. The blower speed increases as you press or hold the blower control up button and decreases when you press or hold the blower control down button.
The blower fan speed can be set to any fixed speed by pressing the blower control up or down buttons. The fan will now operate at a fixed speed until additional speeds are selected. This allows the front occupants to control the volume of air circulated in the vehicle and cancel the AUTO mode.
The operator can also select the direction of the airflow by selecting one of the following positions.
See also:
Interiors
From time to time check that water has not collected under the mats (from dripping shoes, umbrellas etc.) which could cause the steel to rust. Never use inflammable products such as petroleum ethe ...
Transmitter Battery Replacement
NOTE: Perchlorate Material Ц special handling may apply. See www.dtsc.ca.gov/hazardouswaste/perchlorate The recommended replacement battery is CR2032. 1. Press the mechanical key release button a ...
Body Lubrication
Locks and all body pivot points, including such items as seat tracks, door hinge pivot points and rollers, liftgate, tailgate, sliding doors and hood hinges, should be lubricated periodically with ...