This system offers a full complement of manual override features.

NOTE: Each of these features operates independently from each other. If any feature is controlled manually, temperature control will continue to operate automatically.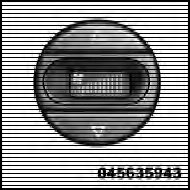 Blower Control
There are 12 fixed blower speeds. Use the blower control up or down buttons to regulate the amount of air forced through the system in any mode you select. The blower speed increases as you press or hold the blower control up button and decreases when you press or hold the blower control down button.
The blower fan speed can be set to any fixed speed by pressing the blower control up or down buttons. The fan will now operate at a fixed speed until additional speeds are selected. This allows the front occupants to control the volume of air circulated in the vehicle and cancel the AUTO mode.
The operator can also select the direction of the airflow by selecting one of the following positions.
See also:
The fiat code system
To further protect you car from theft, it has been fitted with an engine immobilising system. This system is automatically activated when the ignition key is removed. An electronic device, in fact, ...
Body Lubrication
Locks and all body pivot points, including such items as seat tracks, door hinge pivot points and rollers, liftgate, tailgate, sliding doors and hood hinges, should be lubricated periodically with ...
Windscreen/rear window/headlight washer fluid
To top up, remove the cap (A) and then pour a mixture of water and TUTELA PROFESSIONAL SC 35, in the following concentrations: ❒ 30% TUTELA PROFESSIONAL SC 35 and 70% water in summer; ...