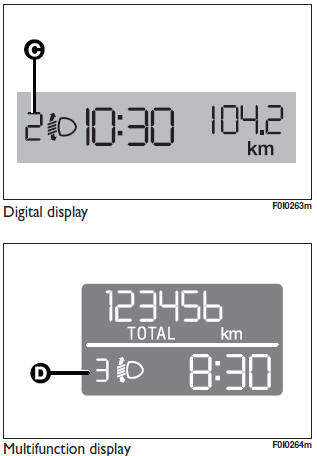 The car is fitted with electric headlight slant adjusting device working with ignition key to MAR and dipped beams on.
When the car is loaded, it slopes backwards. This means that the headlight beam rises. In this case, it is necessary to return it to the correct position.
To adjust the headlight slant, proceed as follows:
❒ hold button (B) pressed to increase by one position (e.g.: 0 ➨ 1,1 ➨ 2,2 ➨ 3);
❒ hold button (A) pressed to decrease by one position (e.g.: 3 ➨ 2,2 ➨ 1,1 ➨ 0).
Each position increase corresponds to a beam slant lowering (laden car).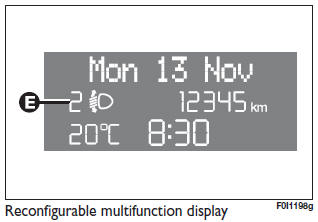 Correct positions as a function of the load
Position 0 - one or two people occupying the front seats.
Position 1 - five people.
Position 2 - five people + load in the boot.
Position 3 - driver + maximum permissible load stowed in the boot.
IMPORTANT Check beam aiming every time the load carried changes.
See also:
How to warm up the engine after it has just started (petrol and diesel versions)
Proceed as follows: ❒ Drive off slowly, letting the engine turn at medium revs. Do not accelerate abruptly; ❒ Do not drive at full performance for the initial kilometres. Wait until ...
Tire Pressure Monitoring System (TPMS)
The Tire Pressure Monitor System (TPMS) will warn the driver of a low tire pressure based on the vehicle recommended cold tire pressure. The tire pressure will vary with temperature by about 1 psi ...
Looking after the system
During the winter, the climate control system must be turned on at least once a month for about ten minutes. Before summer, have the system checked at a Fiat Dealership. ...