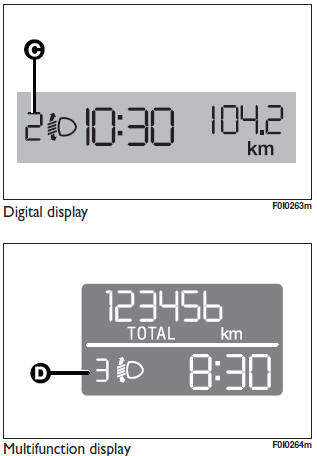 The car is fitted with electric headlight slant adjusting device working with ignition key to MAR and dipped beams on.
When the car is loaded, it slopes backwards. This means that the headlight beam rises. In this case, it is necessary to return it to the correct position.
To adjust the headlight slant, proceed as follows:
❒ hold button (B) pressed to increase by one position (e.g.: 0 ➨ 1,1 ➨ 2,2 ➨ 3);
❒ hold button (A) pressed to decrease by one position (e.g.: 3 ➨ 2,2 ➨ 1,1 ➨ 0).
Each position increase corresponds to a beam slant lowering (laden car).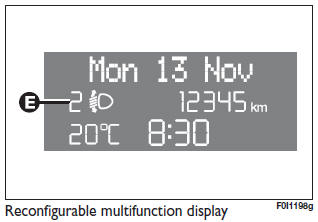 Correct positions as a function of the load
Position 0 - one or two people occupying the front seats.
Position 1 - five people.
Position 2 - five people + load in the boot.
Position 3 - driver + maximum permissible load stowed in the boot.
IMPORTANT Check beam aiming every time the load carried changes.
See also:
Fuel reserve
(amber) Turning the ignition key to MAR the warning light turns on, but it should go off after few seconds. The warning light turns on when about 5-7 liters fuel are left in the tank. IMPORTANT ...
The Fiat code system
To further protect your vehicle from theft, it has been fitted with an engine immobilising system (Fiat CODE system) which is automatically activated when the ignition key is removed. An electron ...
Additional checks
Every 1,000 km or before long trips, check and top up as necessary: engine coolant level, brake fluid level, windscreen washer liquid level, tyre pressure and conditions. Every 3,000 km check and ...