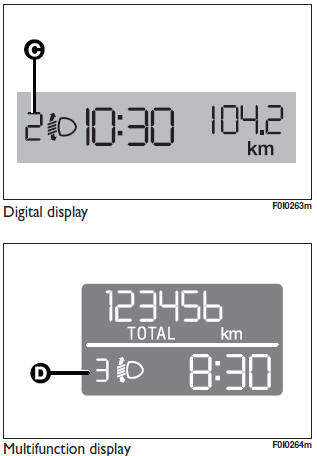 The car is fitted with electric headlight slant adjusting device working with ignition key to MAR and dipped beams on.
When the car is loaded, it slopes backwards. This means that the headlight beam rises. In this case, it is necessary to return it to the correct position.
To adjust the headlight slant, proceed as follows:
❒ hold button (B) pressed to increase by one position (e.g.: 0 ➨ 1,1 ➨ 2,2 ➨ 3);
❒ hold button (A) pressed to decrease by one position (e.g.: 3 ➨ 2,2 ➨ 1,1 ➨ 0).
Each position increase corresponds to a beam slant lowering (laden car).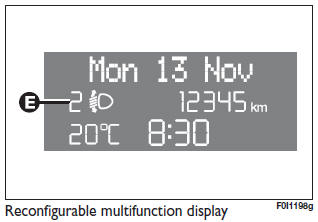 Correct positions as a function of the load
Position 0 - one or two people occupying the front seats.
Position 1 - five people.
Position 2 - five people + load in the boot.
Position 3 - driver + maximum permissible load stowed in the boot.
IMPORTANT Check beam aiming every time the load carried changes.
See also:
General Information
The radio offers the following functions: Radio Section Х PLL tuning with FM/AM/MW frequency bands Х RBDS (Radio Broadcast Data System) Х Automatic/manual station tuning Х FM Multipath detector ...
28. Tachometer
The white area of the scale shows the permissible engine revolutions-per-minute (RPM x 1000) for each gear range. Before reaching the red area, ease up on the accelerator to prevent engine damage. ...
Set date (Date Adjustm.)
To correct the date (year - month - day ) proceed as follows: ...