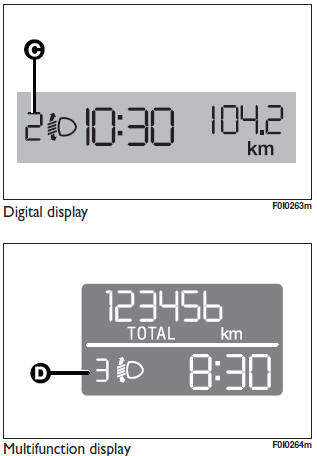 The car is fitted with electric headlight slant adjusting device working with ignition key to MAR and dipped beams on.
When the car is loaded, it slopes backwards. This means that the headlight beam rises. In this case, it is necessary to return it to the correct position.
To adjust the headlight slant, proceed as follows:
❒ hold button (B) pressed to increase by one position (e.g.: 0 ➨ 1,1 ➨ 2,2 ➨ 3);
❒ hold button (A) pressed to decrease by one position (e.g.: 3 ➨ 2,2 ➨ 1,1 ➨ 0).
Each position increase corresponds to a beam slant lowering (laden car).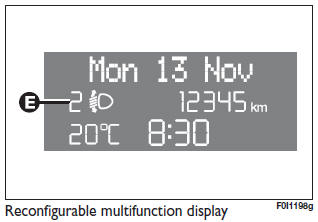 Correct positions as a function of the load
Position 0 - one or two people occupying the front seats.
Position 1 - five people.
Position 2 - five people + load in the boot.
Position 3 - driver + maximum permissible load stowed in the boot.
IMPORTANT Check beam aiming every time the load carried changes.
See also:
Event Data Recorder (EDR)
This vehicle is equipped with an event data recorder (EDR). The main purpose of an EDR is to record, in certain crash or near crash-like situations, such as an air bag deployment or hitting a road ...
EZ Entry Feature
The driver and front passenger seats have an EZ entry feature for rear seat passengers. Pull forward on the release lever, located on the outboard side of the seatback, dump the seatback forward, ...
Inflating procedure
Proceed as follows: ❒ Position the involved wheel with the inflation valve (A) set as shown in the figure, then pull up the handbrake; ❒ Screw the filler hose (B) to the cylinder ...