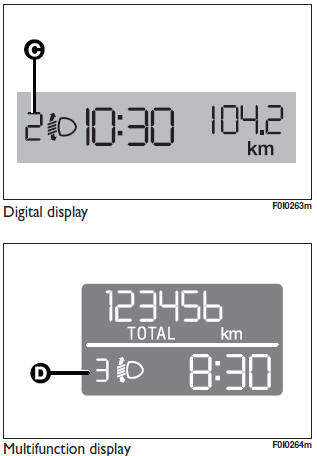 The car is fitted with electric headlight slant adjusting device working with ignition key to MAR and dipped beams on.
When the car is loaded, it slopes backwards. This means that the headlight beam rises. In this case, it is necessary to return it to the correct position.
To adjust the headlight slant, proceed as follows:
❒ hold button (B) pressed to increase by one position (e.g.: 0 ➨ 1,1 ➨ 2,2 ➨ 3);
❒ hold button (A) pressed to decrease by one position (e.g.: 3 ➨ 2,2 ➨ 1,1 ➨ 0).
Each position increase corresponds to a beam slant lowering (laden car).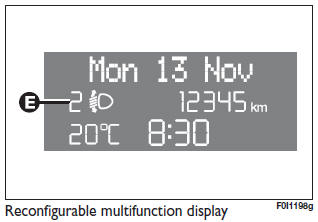 Correct positions as a function of the load
Position 0 - one or two people occupying the front seats.
Position 1 - five people.
Position 2 - five people + load in the boot.
Position 3 - driver + maximum permissible load stowed in the boot.
IMPORTANT Check beam aiming every time the load carried changes.
See also:
Sun visors
They are located at the sides of the driving mirror. They can be adjusted forwards and sidewards (this last adjustment is not possible on versions fitted with Front window bag). A courtesy mirr ...
Front Turn Signal, Parking And Daytime RunningLamps
1. Turn the steering wheel completely to the left or right. 2. Open the wheel housing access door. 3. Remove the plastic cap from the back of the lamp housing. 4. Rotate bulb/socket counter-clock ...
Wheels
RIMS AND TYRES Pressed steel or alloy rims. Tubeless tyres with radial carcass. The homologated tyres are listed in the Log book. IMPORTANT In the event of discrepancies between the information ...