"STANDARD" SCREEN fig. 38
The standard screen shows the following indications:
A - Headlight aiming position display (with dipped beam headlights on).
B - Clock (always displayed, also with key removed and front doors closed).
C - Odometer (km or miles covered).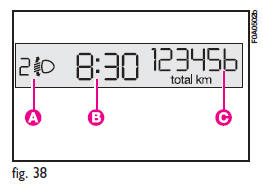 CONTROL BUTTONS fig. 39
A - Clock.
CLOCK fig. 39
To adjust the clock press button A.
The clock will advance by one unit each time the button is pressed. Press the button and hold it down for a few seconds to rapidly advance the time automatically. When the clock draws near to the correct time, release the button and complete the regulation manually.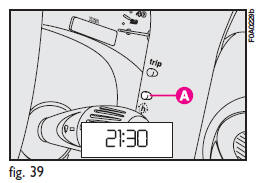 WARNING LIGHT TEST fig. 40
The following warning lights are tested:
– handbrake on/low brake fluid level;
– ABS and EBD system (where provided);
This tests are carried out automatically when turning the ignition key to MAR and during normal operation when a fault is found. At the end of the initial check, the display will show failures, if any (through one or more warning lights) by the wording "LEd Error" flashing for about 10 seconds.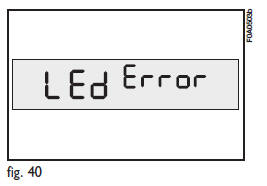 See also:
Low battery charge
(red) Turning the ignition key to MAR the warning light turns on, but it should go out as soon as the engine is started (with the engine running at idle speed a brief delay in going out is allo ...
Direction indicators
Push the lever to stable position: ❒ up (position 1): engage the right-hand direction indicator; ❒ down (position 2): engage the left-hand direction indicator. Warning light or w ...
Car inactivity
If the car is to be left inactive for longer than a month, the following precautions should be noted: ❒ park the car in covered, dry and if possible wellventilated premises; ❒ engage ...