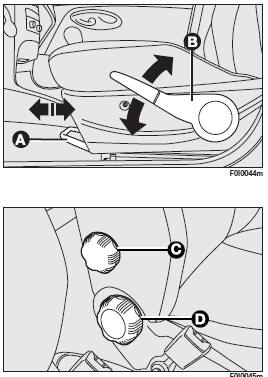 Moving the seat backwards or forwards
Lift the lever (A) (on seat internal side) and push the seat forwards or backwards: in the driving position the arms should rest on the rim of the steering wheel.
Seat height adjustment (where provided)
Move the lever (B) upwards or downwards to achieve the required height.
IMPORTANT Adjustment must be carried out only seated in the driver's seat.
Back rest angle adjustment
Turn the knob (C).
Lumbar adjustment (where provided)
To adjust, turn the knob (D).
Seat warming (where provided)
Press button (A) to switch the seat warming on/off. The led on the button will light up when the function is on.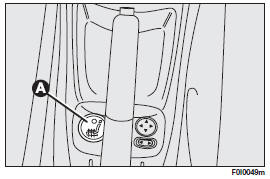 WARNING
Only make adjustments when the car is stationary.
WARNING
Once you have released the lever, check that the seat is firmly locked in the runners by trying to move it back and forth. Failure to lock the seat in place could result in the seat moving suddenly and the driver losing control of the car.
Tilting the back rest (3-door versions)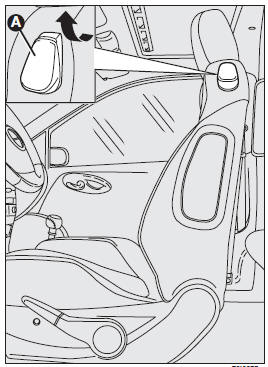 To gain access to the rear seats, pull the handle (A) upwards, the back rest folds and the seat is free to run forwards.
When resetting the back rest, the seat returns to its original position (mechanical memory).
Always check that the seat is firmly locked in the runners by trying to move it back and forth.
See also:
15. Tire Pressure Monitoring Telltale Light
Each tire, including the spare (if provided), should be checked monthly when cold and inflated to the inflation pressure recommended by the vehicle manufacturer on the vehicle placard or tire in ...
Car protection system failure - fiat code
Turning the key to MAR the warning light on the dial shall flash only once and then go off. If with the ignition key at MAR the warning light stays on, this indicates a possible failure (see "Th ...
Incomplete door locking
(red) On certain versions the warning light turns on when one or more doors or the tailgate are not properly shut. On certain versions the dedicated message is displayed; symbols indicate resp ...