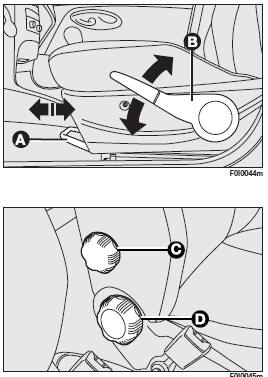 Moving the seat backwards or forwards
Lift the lever (A) (on seat internal side) and push the seat forwards or backwards: in the driving position the arms should rest on the rim of the steering wheel.
Seat height adjustment (where provided)
Move the lever (B) upwards or downwards to achieve the required height.
IMPORTANT Adjustment must be carried out only seated in the driver's seat.
Back rest angle adjustment
Turn the knob (C).
Lumbar adjustment (where provided)
To adjust, turn the knob (D).
Seat warming (where provided)
Press button (A) to switch the seat warming on/off. The led on the button will light up when the function is on.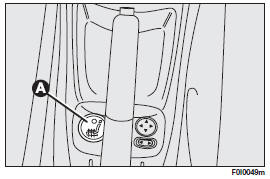 WARNING
Only make adjustments when the car is stationary.
WARNING
Once you have released the lever, check that the seat is firmly locked in the runners by trying to move it back and forth. Failure to lock the seat in place could result in the seat moving suddenly and the driver losing control of the car.
Tilting the back rest (3-door versions)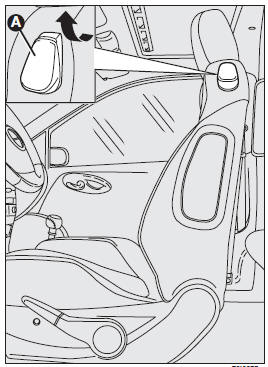 To gain access to the rear seats, pull the handle (A) upwards, the back rest folds and the seat is free to run forwards.
When resetting the back rest, the seat returns to its original position (mechanical memory).
Always check that the seat is firmly locked in the runners by trying to move it back and forth.
See also:
Quick Guide
Radio Controls ...
Automatic Locking Retractor Mode (ALR) — IfEquipped
In this mode, the shoulder belt is automatically prelocked. The belt will still retract to remove any slack in the shoulder belt. The Automatic Locking Mode is available on all passenger-seating po ...
Operation
When the shift lever is in the AutoStick position (to the left of the Drive position), it can be moved forward and rearward. This allows the driver to manually select the transmission gear being u ...