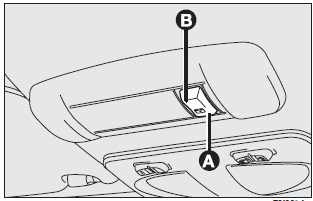 It is controlled electrically and it will only work when the ignition key is at MAR.
Sunroof is controlled by a switch. When you release it the roof locks in the position it is at that moment.
SUNROOF OPENING
Full opening
Press switch to (A) (symbol).
УSpoilerФ position
Press switch to (B), this is only possible when the roof is closed.
SUNROOF CLOSING
Press switch to (B). Press to (A) (symbol) when the roof is in spoiler position.
A sliding sunshade is fitted to lessen the effect of sun rays in the passenger compartment.
EMERGENCY OPERATION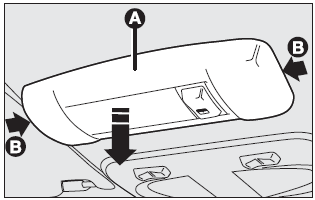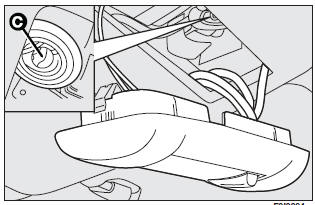 If the switch does not work, the sunroof can be operated manually as follows:
❒ remove (A) operating from points (B) shown by the arrows;
❒ insert the screwdriver provided into (C);
❒ when fully open, turn the screwdriver half a turn back until it clicks, then remove the screwdriver.
Do not open the sunroof if there is snow or ice on it: it could be damaged.
WARNING
When leaving the car, the ignition key should be removed to prevent the sunroof from being operated inadvertently and harming anyone remaining in the car. Improper use of the sunroof can be dangerous. Before and during its operation ensure that any passengers are not at risk from the moving roof either by personal objects getting caught in the mechanism or by being injured by it directly.
See also:
Language (Lang.)
Display messages can be shown in different languages (Italian, Dutch, English, Spanish, French, Portuguese, German). To select the required language proceed as follows: ...
Interior equipment
GLOVE BOX fig. 95 Operate handle A as shown by the arrow to open the compartment. MAGNETIC CARD POCKET - TICKET POCKET fig. 96 (where provided) Slots for keeping magnetic cards (telephone cards, ...
Fuel Filler Cap (Gas Cap)
The gas cap is located on the passenger side of the vehicle. If the gas cap is lost or damaged, be sure the replacement cap is the correct one for this vehicle. Fuel Filler Cap CAUTION! Х Dam ...