WITH THE JACK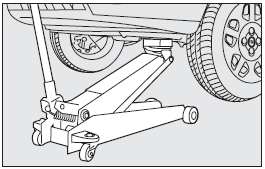 See "If a tyre is punctured" in this section.
WITH A SHOP JACK
From the front
Jack up the car only by positioning the jack arm at the gearbox/differential and placing a rubber pad in between as shown in the figure.
From the side
The car can only be jacked up by positioning the arm at the reference points in the area shown in the figure. Place a piece of rubber of suitable thickness in between.
WITH AN ARM HOIST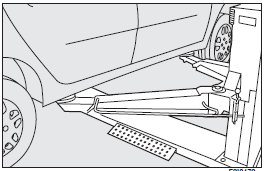 Jack up the car by arranging the ends of the arms in the areas shown in the figure.
See also:
Additional braking light (third stop)
To change the bulb, proceed as follows: ❒ open the tailgate and loosen screws (A); ❒ release the clip (B) and open the bulb holder, the remove the bulb (C) to be replaced (clippe ...
If an accident occurs
– It is important to keep calm. – If you are not directly involved in the accident, stop at least ten meters away from the accident. – If you are on a motorway, do not obstruct the emergency lane ...
Trip b ON/OFF (Trip B)
Through this option it is possible to activate (ON) or deactivate (OFF) the Trip B (partial trip) which show "partial mission" information corresponding to: Trip Dist. B, Avg. Consump. B, Avg. Spe ...