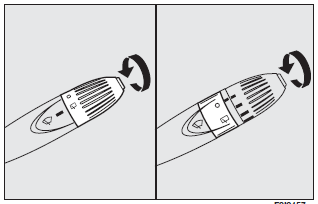 This device can only work when the ignition key is at MAR. To switch the rear window wiper on, turn the knurled ring from O to

. To wash the window push the stalk towards the dashboard. On certain versions the rear window and windscreen wiping strokes are synchronised.
"Smart washing" function
On certain versions, pulling the stalk towards the dashboard, with just one movement it is possible to operate the washer jet and the wiper at the same time; indeed, the latter comes into action automatically if the stalk is pulled for more than half a second. The wiper stops working three strokes after releasing the stalk. On certain versions a further "cleaning stroke", after a few seconds, completes the wiping operation.
See also:
Acceleration
Rapid acceleration on snow covered, wet, or other slippery surfaces may cause the driving wheels to pull erratically to the right or left. This phenomenon occurs when there is a difference in the ...
Raising The Power Top
From the convertible top fully open position, press the top close button for approximately one second for the partially open position. Press the top close button for approximately one second a sec ...
High Beams
With the low beams activated, push the multifunction lever towards the instrument panel to turn on the high beams. Pull the multifunction lever toward the steering wheel to turn off the high bea ...