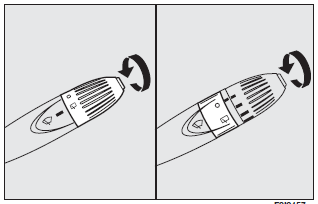 This device can only work when the ignition key is at MAR. To switch the rear window wiper on, turn the knurled ring from O to

. To wash the window push the stalk towards the dashboard. On certain versions the rear window and windscreen wiping strokes are synchronised.
"Smart washing" function
On certain versions, pulling the stalk towards the dashboard, with just one movement it is possible to operate the washer jet and the wiper at the same time; indeed, the latter comes into action automatically if the stalk is pulled for more than half a second. The wiper stops working three strokes after releasing the stalk. On certain versions a further "cleaning stroke", after a few seconds, completes the wiping operation.
See also:
Temperature Grades
The temperature grades are A (the highest), B, and C, representing the tire's resistance to the generation of heat and its ability to dissipate heat, when tested under controlled conditions on a s ...
"Follow me home" device
This function allows the illumination of the space in front of the car. Activation With the ignition key at STOP or removed, pull the left-hand stalk towards the steering wheel and operate it wi ...
Trip b ON/OFF (Trip B)
Through this option it is possible to activate (ON) or deactivate (OFF) the Trip B (partial trip) which show "partial mission" information corresponding to: Trip Dist. B, Avg. Consump. B, Avg. Spe ...