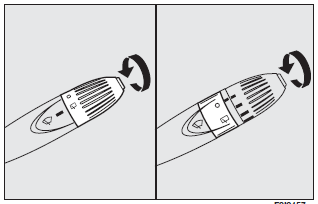 This device can only work when the ignition key is at MAR. To switch the rear window wiper on, turn the knurled ring from O to

. To wash the window push the stalk towards the dashboard. On certain versions the rear window and windscreen wiping strokes are synchronised.
"Smart washing" function
On certain versions, pulling the stalk towards the dashboard, with just one movement it is possible to operate the washer jet and the wiper at the same time; indeed, the latter comes into action automatically if the stalk is pulled for more than half a second. The wiper stops working three strokes after releasing the stalk. On certain versions a further "cleaning stroke", after a few seconds, completes the wiping operation.
See also:
Front window bag
They are "curtain" cushions located behind the side coverings of the roof and covered by proper finishings such to allow the cushion unfolding downwards; this solution, studied for the head prot ...
General Information
This device complies with Part 15 of FCC rules and with RS-210 of Industry Canada. Operation is subject to the following conditions: 1. This device may not cause harmful interference. 2. This dev ...
Jacking And Tire Changing — If Equipped
WARNING! • Do not attempt to change a tire on the side of the vehicle close to moving traffic. Pull far enough off the road to avoid the danger of being hit when operating the jack or changing t ...