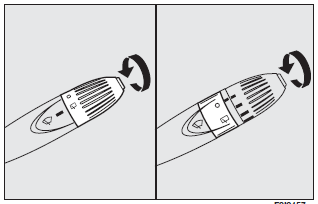 This device can only work when the ignition key is at MAR. To switch the rear window wiper on, turn the knurled ring from O to

. To wash the window push the stalk towards the dashboard. On certain versions the rear window and windscreen wiping strokes are synchronised.
"Smart washing" function
On certain versions, pulling the stalk towards the dashboard, with just one movement it is possible to operate the washer jet and the wiper at the same time; indeed, the latter comes into action automatically if the stalk is pulled for more than half a second. The wiper stops working three strokes after releasing the stalk. On certain versions a further "cleaning stroke", after a few seconds, completes the wiping operation.
See also:
E-85 Usage In Non-Flex Fuel Vehicles
Non-FFV vehicles are compatible with gasoline containing 10% Ethanol (E10). Gasoline with higher Ethanol content may void the vehicle's warranty. If a Non-FFV vehicle is inadvertently fueled with E ...
Reconfigurable multifunction display
The "Multifunction display" shows all the useful information necessary when driving, more particularly: ...
Vehicle protection system failure -Fiat code
(amber) Turning the key to MAR the warning light shall flash only once and then go off. If with the ignition key at MAR, the warning light stays on, this indicates a possible failure (see "Fiat ...