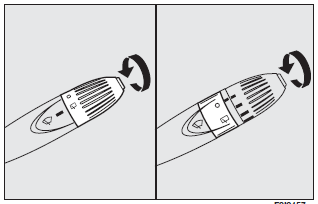 This device can only work when the ignition key is at MAR. To switch the rear window wiper on, turn the knurled ring from O to

. To wash the window push the stalk towards the dashboard. On certain versions the rear window and windscreen wiping strokes are synchronised.
"Smart washing" function
On certain versions, pulling the stalk towards the dashboard, with just one movement it is possible to operate the washer jet and the wiper at the same time; indeed, the latter comes into action automatically if the stalk is pulled for more than half a second. The wiper stops working three strokes after releasing the stalk. On certain versions a further "cleaning stroke", after a few seconds, completes the wiping operation.
See also:
Technical specifications
VEHICLE IDENTIFICATION DATA CHASSIS MARKING fig. 1 It is printed on the passenger compartment floor, near the right-hand front seat. It can be reached by lifting the special flap in the carpeting an ...
GROUP 0 and 0+
Babies up to 13 kg must be carried facing backwards on a cradle seat, which, supporting the head, does not induce stress on the neck in the event of sharp deceleration. The cradle is restrained by ...
Automatic Operation
1. Press the AUTO button on the Automatic Temperature Control (ATC) Panel, the indicator will illuminate when on. 2. Next, adjust the temperature you would like the system to maintain by adjusting ...