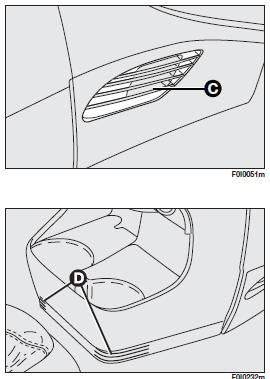 (C) - (D) Fixed vents for conveying air to the footwell.
See also:
Auto-Down — If Equipped
The driver's door window switch may have an Auto- Down feature. Press the window switch for approximately one second, release, and the window will go Power Window Switches 2 THINGS TO KNOW BEFORE ...
Spotter Mirror — If Equipped
Some models are equipped with a driver's side spotter mirror. The spotter mirror allows for a greater range of visibility on the driver's side of the vehicle. Spotter Mirror ...
Electronic Speed Control
When engaged, the Electronic Speed Control takes over accelerator operations at speeds greater than 25 mph (40 km/h). The Electronic Speed Control buttons are located on the right side of the steer ...