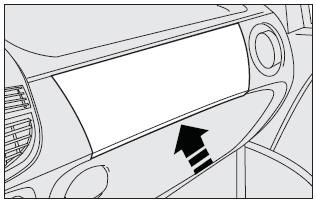 It consists of an instant-inflating cushion contained in a special recess in the dashboard; its volume is bigger than the driver's one.
The driver's and passenger's front Air bags have been designed and calibrated to improve the protection of a person wearing seat belts.
At their maximum inflation, their volume fills most of the space between the dashboard and the passenger.
WARNING
SERIOUS DANGER: The car is fitted with an air bag on the passenger's side. Never place cradle child's seats on the front passenger's seat of cars fitted with passenger's air bag since the air bag activation could cause serious injuries, even mortal.
WARNING
On cars provided with front passenger's air bag, the air bag shall be deactivated when placing a child' seat on the front passenger's seat. The front passenger seat shall be adjusted in the most backward position to prevent any contact between child' seat and dashboard. Even if not compulsory by law, you are recommended to reactivate the air bag immediately as soon as child transport is no longer necessary.
See also:
Cleaning The Rear Park Assist System
Clean the Rear Park Assist sensors with water, car wash soap and a soft cloth. Do not use rough or hard cloths. In washing stations, clean sensors quickly keeping the vapor jet/high pressure washi ...
Recommended Shift Speeds
To use your manual transmission for optimal fuel economy, it should be upshifted as listed in the following table ...
To Unlock The Doors And Liftgate
Press and release the UNLOCK button on the RKE transmitter once to unlock the driver's door or twice, within five seconds, to unlock all doors and the liftgate. The turn signal lights will flash to ...