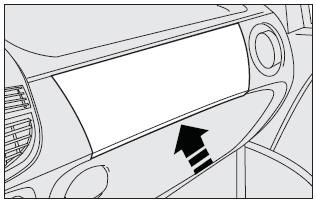 It consists of an instant-inflating cushion contained in a special recess in the dashboard; its volume is bigger than the driver's one.
The driver's and passenger's front Air bags have been designed and calibrated to improve the protection of a person wearing seat belts.
At their maximum inflation, their volume fills most of the space between the dashboard and the passenger.
WARNING
SERIOUS DANGER: The car is fitted with an air bag on the passenger's side. Never place cradle child's seats on the front passenger's seat of cars fitted with passenger's air bag since the air bag activation could cause serious injuries, even mortal.
WARNING
On cars provided with front passenger's air bag, the air bag shall be deactivated when placing a child' seat on the front passenger's seat. The front passenger seat shall be adjusted in the most backward position to prevent any contact between child' seat and dashboard. Even if not compulsory by law, you are recommended to reactivate the air bag immediately as soon as child transport is no longer necessary.
See also:
Downshifting
Proper downshifting will improve fuel economy and prolong engine life. CAUTION! If you skip more than one gear while downshifting or downshift at too high a vehicle speed, you could damage the en ...
Tilt Steering Column — If Equipped
This feature allows you to tilt the steering column upward or downward. The tilt control lever is located on the left-side of the steering column, below the turn signal controls. Tilt Control ...
Warranty Information
See the Warranty Information Booklet, located on the DVD, for the terms and provisions of FIAT Group Automobiles warranties applicable to this vehicle and market. ...