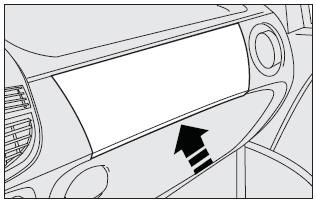 It consists of an instant-inflating cushion contained in a special recess in the dashboard; its volume is bigger than the driver's one.
The driver's and passenger's front Air bags have been designed and calibrated to improve the protection of a person wearing seat belts.
At their maximum inflation, their volume fills most of the space between the dashboard and the passenger.
WARNING
SERIOUS DANGER: The car is fitted with an air bag on the passenger's side. Never place cradle child's seats on the front passenger's seat of cars fitted with passenger's air bag since the air bag activation could cause serious injuries, even mortal.
WARNING
On cars provided with front passenger's air bag, the air bag shall be deactivated when placing a child' seat on the front passenger's seat. The front passenger seat shall be adjusted in the most backward position to prevent any contact between child' seat and dashboard. Even if not compulsory by law, you are recommended to reactivate the air bag immediately as soon as child transport is no longer necessary.
See also:
Sidelights and low beams
The warning light on the dial turns on when sidelights, parking lights or low beams are turned on. ...
Climatic comfort
Knob (D) directs the air inside the passenger compartment according to five levels: air flow from central vents and side outlets; to warm the feet and keep the face cool ("bilevel" function) ...
Supplemental Side Air Bag Inflatable Curtain(SABIC) Inflator Units
During collisions where the impact is confined to a particular area of the side of the vehicle, the ORC may deploy the Supplemental Side Air Bag Inflatable Curtain (SABIC), depending on the severi ...