Version with central dashboard unit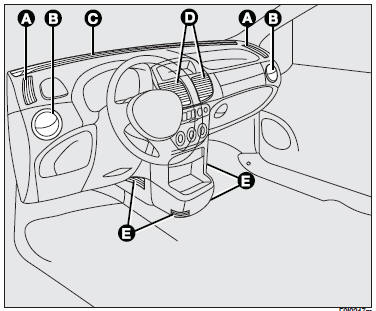 A - Fixed side vents - B - Adjustable side outlets - C - Fixed upper vent - D - Fixed central vent - E - Lower vents
Version with central tunnel unit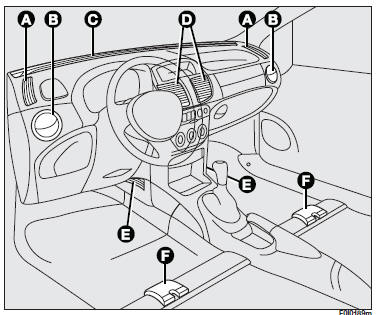 A - Fixed side vents - B - Adjustable side outlets - C - Fixed upper vent - D - Fixed central vent - E - Lower vents - F - Lower vents for rear seats
See also:
Front light units
The front light units contain: sidelights, dipped beam, main beam and direction indicator bulbs. The bulbs are arranged inside the light unit as follows: (1): sidelights/main beam headlights; ( ...
Transporting children safely
SERIOUS DANGER: Never place cradle child's seats not facing the running direction on the front seat of vehicles with passenger's airbag, which during inflation could cause serious injury, even ...
New engines improve efficiency
To demonstrate its technical excellence, at the heart of the 2012 Punto is a revamped range of five petrol and two diesel engines. Each offers a varying degree of driveability and class-leading ef ...