Version with central dashboard unit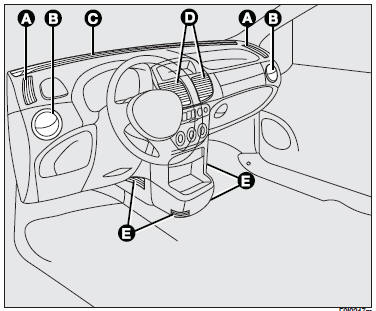 A - Fixed side vents - B - Adjustable side outlets - C - Fixed upper vent - D - Fixed central vent - E - Lower vents
Version with central tunnel unit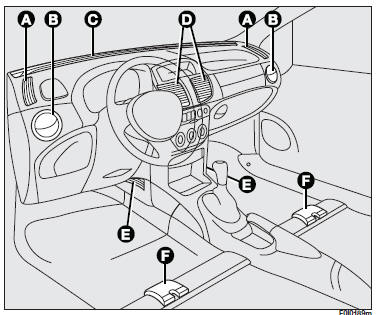 A - Fixed side vents - B - Adjustable side outlets - C - Fixed upper vent - D - Fixed central vent - E - Lower vents - F - Lower vents for rear seats
See also:
Model plate
The plate is to be found on the front crossmember of the engine compartment and bears the following identification data: A - Manufacturer' name. B - Homologation number. C - Vehicle type code. ...
Tailgate emergency opening
On versions with front seats that do not fold over, there is an opening device inside the tailgate to allow the occupants to evacuate the rear seats in an emergency. To unlock the tail age, operat ...
Weights
(*) If special equipment is fitted (sunroof, tow hitch, etc.) the unladen car weight increases, thus reducing the specified payload. (**) Loads not to be exceeded. The driver is responsible for a ...