Version with central dashboard unit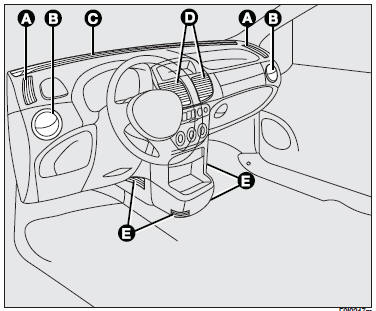 A - Fixed side vents - B - Adjustable side outlets - C - Fixed upper vent - D - Fixed central vent - E - Lower vents
Version with central tunnel unit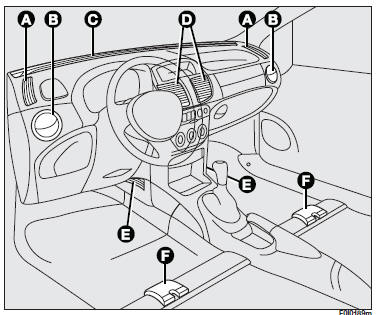 A - Fixed side vents - B - Adjustable side outlets - C - Fixed upper vent - D - Fixed central vent - E - Lower vents - F - Lower vents for rear seats
See also:
Sidelights and low beams
The warning light on the dial turns on when sidelights, parking lights or low beams are turned on. ...
7. Turn Signal Indicators
The arrows will flash in unison with the exterior turn signal, when using the turn signal lever. ...
Welcome aboard Fiat Doblò
Fiat Doblò is a compact vehicle with an original bodyline, designed to offer great driving comfort, ensure safety and be a real friend to the environment. Everything, from its new engines to ...