Version with central dashboard unit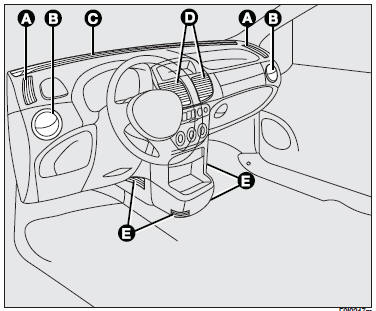 A - Fixed side vents - B - Adjustable side outlets - C - Fixed upper vent - D - Fixed central vent - E - Lower vents
Version with central tunnel unit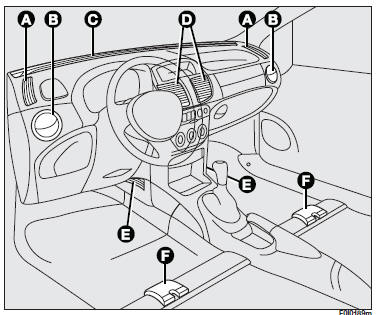 A - Fixed side vents - B - Adjustable side outlets - C - Fixed upper vent - D - Fixed central vent - E - Lower vents - F - Lower vents for rear seats
See also:
Loading
The vehicle maximum load on the tire must not exceed the load carrying capacity of the tire on your vehicle. You will not exceed the tire's load carrying capacity if you adhere to the loading cond ...
Automatic Transmission – If Equipped
The automatic transmission and differential assembly are contained within a single housing. The fluid level in the automatic transmission should be checked whenever the vehicle is serviced. Opera ...
Bump starting
Never bump start the engine (by pushing, towing or coasting downhill). This could cause fuel to flow into the catalytic converter and damage it beyond repair. IMPORTANT Remember that the servobrake ...