Version with central dashboard unit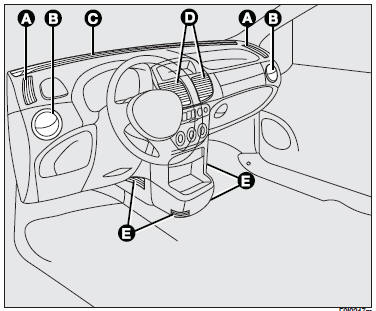 A - Fixed side vents - B - Adjustable side outlets - C - Fixed upper vent - D - Fixed central vent - E - Lower vents
Version with central tunnel unit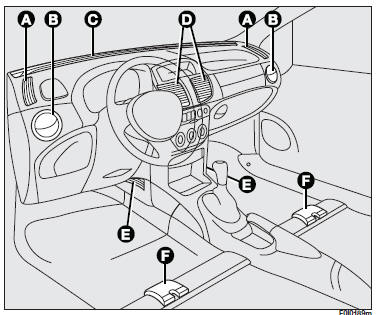 A - Fixed side vents - B - Adjustable side outlets - C - Fixed upper vent - D - Fixed central vent - E - Lower vents - F - Lower vents for rear seats
See also:
Central vents
(A) - Air flow opening/closing control. ...
Front Windshield Wiper Operation
There are five different modes of operation for the front windshield wipers. The windshield wiper lever can be raised or lowered to access these modes: Windshield Wiper Operation Windshield Wip ...
High temperature engine coolant fluid
Turning the ignition key to MAR the warning light on the dial turns on, but it should go off after few seconds. The warning light turns on (on certain versions together with the message on th ...