Version with central dashboard unit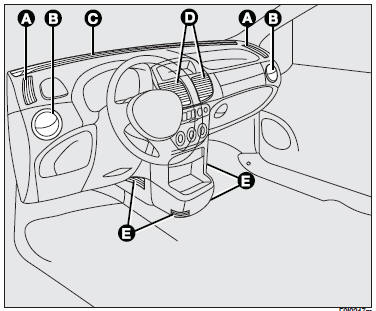 A - Fixed side vents - B - Adjustable side outlets - C - Fixed upper vent - D - Fixed central vent - E - Lower vents
Version with central tunnel unit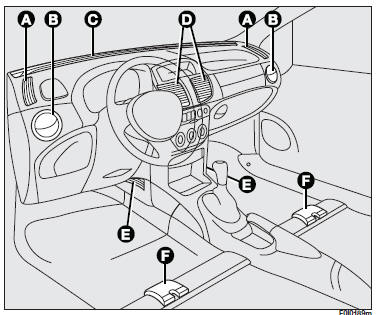 A - Fixed side vents - B - Adjustable side outlets - C - Fixed upper vent - D - Fixed central vent - E - Lower vents - F - Lower vents for rear seats
See also:
Engine coolant temperature gauge
This shows the temperature of the engine coolant fluid and begins working when the fluid temperature exceeds approx. 50°C. Under normal conditions, the needle should hover around the middle of the ...
Infants And Child Restraints
Safety experts recommend that children ride rearwardfacing in the vehicle until they are two years old or until they reach either the height or weight limit of their rear facing child safety seat. ...
Supplemental Seat-Mounted Side Air Bag (SAB)Inflator Units
The Supplemental Seat-Mounted Side Air Bags (SAB) are designed to activate only in certain side collisions. The ORC determines if a side collision requires the side air bags to inflate, based on ...