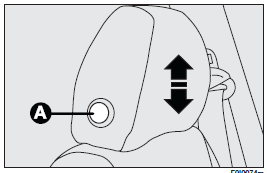 According to versions they can be fixed or adjustable in height. To raise or lower the head restraint, press button (A) then move it to the required position until hearing the locking click. Make sure it is properly locked in place.
See also:
Manual Transmission – If Equipped
The Sport mode increases steering feedback to the driver with slight increases in effort and throttle pedal-to-engine response. This driving mode is useful while driving on twisty roads where more ...
Right-hand direction indicator
The warning light on the dial turns on when the direction indicator control lever is moved upwards or, together with the left indicator, when the hazard warning light button is pressed. ...
Rear seats (where provided)
According to versions, two or three head restraints can be provided. To remove the head restraints, first remove the rear parcel shelf (see paragraph "Extending the boot"), press button (A) set ...