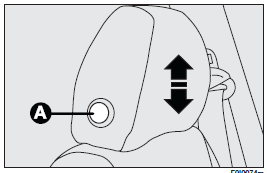 According to versions they can be fixed or adjustable in height. To raise or lower the head restraint, press button (A) then move it to the required position until hearing the locking click. Make sure it is properly locked in place.
See also:
Initial check
Turning the ignition key to MAR, the multifunction display shows the message "Check active": the diagnostic phase of all the electronic systems on the car has started. This lasts few seconds: if n ...
Fire
The 2012 Fiat Punto range starts with the 1.2-litre Fire EVO II engine. This 1.2-litre eight-valve has continuously variable valve timing to optimise the opening and closing of the valves. This en ...
26. Odometer / Trip Odometer / Electronic VehicleInformation Center (EVIC) Display Area
This display indicates the total distance the vehicle has been driven. U.S. Federal regulations require that upon transfer of vehicle ownership, the seller certify to the purchaser the correct mile ...