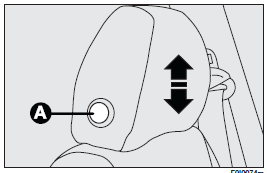 According to versions they can be fixed or adjustable in height. To raise or lower the head restraint, press button (A) then move it to the required position until hearing the locking click. Make sure it is properly locked in place.
See also:
General failure indication
The warning light on the dial comes on when a failure is detected. ...
Maintaining Your Air Bag System
WARNING! • Modifications to any part of the air bag system could cause it to fail when you need it. You could be injured if the air bag system is not there to protect you. Do not modify the comp ...
Warnings And Cautions
This Owner's Manual contains WARNINGS against operating procedures that could result in a collision or bodily injury. It also contains CAUTIONS against procedures that could result in damage to yo ...