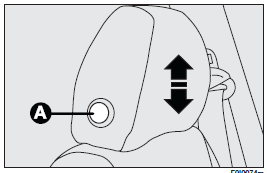 According to versions they can be fixed or adjustable in height. To raise or lower the head restraint, press button (A) then move it to the required position until hearing the locking click. Make sure it is properly locked in place.
See also:
Functions And Adjustments
Turning The Car Radio On The car radio comes on when the (ON/OFF) button is pressed briefly. When the car radio is turned on and the on volume limit is on, the volume is limited to a setting of ...
Spark plugs
The cleanness and soundness of the spark plugs are very important for keeping the engine efficient and polluting emissions down. The appearance of the spark plug, if examined by an expert eyes, is ...
Handbrake
The handbrake lever is located between the two front seats. Pull the handbrake lever upwards until the car cannot be moved. Four or five clicks are generally enough when the car is on level ground ...