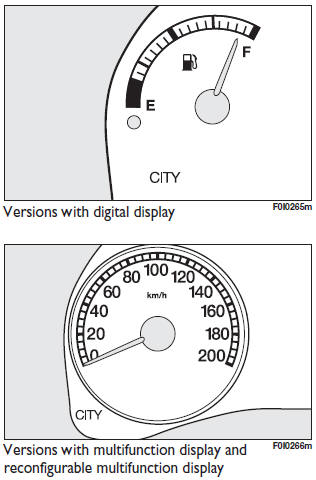 To connect/disconnect the CITY function, push the button located on the central tunnel .
Activation of this function is indicated by the word CITY on the instrument panel (see figures beside).
When the CITY function is on the steering wheel effort is lighter and thus parking operations are easier: therefore this function is particularly useful for driving in city centres.
Additionally, in Sporting versions, this function ensures a more comfortable drive by gradually dosing the accelerator pedal, suitably calibrated for acceleration and deceleration.
See also:
Suggestions
Road Safety Please, learn how to use all different radio functions (e.g. store stations) before beginning to drive. Reception Conditions Reception conditions change constantly while driving. Rece ...
Advice for preserving the bodywork
Paint Paintwork does not only serve an aestethic purpose, but also protects the underlying sheet metal. In the case of deep scrapes or scores, you are advised to have the necessary touching up c ...
GROUP 3
For children from 22 kg up to 36 kg the size of the child's chest no longer requires a support to space the child's back from the seat back. The figure shows proper child seat positioning on the ...