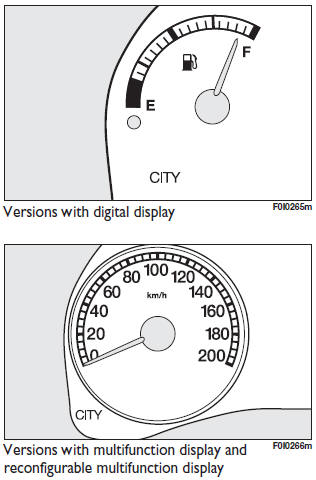 To connect/disconnect the CITY function, push the button located on the central tunnel .
Activation of this function is indicated by the word CITY on the instrument panel (see figures beside).
When the CITY function is on the steering wheel effort is lighter and thus parking operations are easier: therefore this function is particularly useful for driving in city centres.
Additionally, in Sporting versions, this function ensures a more comfortable drive by gradually dosing the accelerator pedal, suitably calibrated for acceleration and deceleration.
See also:
Handbrake on
Turning the ignition key to MAR the warning light on the dial turns on, but it should go off after few seconds. The warning light turns on when the handbrake is on. IMPORTANT If the warning lig ...
E-85 Usage In Non-Flex Fuel Vehicles
Non-FFV vehicles are compatible with gasoline containing 10% Ethanol (E10). Gasoline with higher Ethanol content may void the vehicle's warranty. If a Non-FFV vehicle is inadvertently fueled with E ...
Flowing/Rising Water
WARNING! Do not drive on or across a road or path where water is flowing and/or rising (as in storm run-off). Flowing water can wear away the road or path's surface and cause your vehicle to sin ...