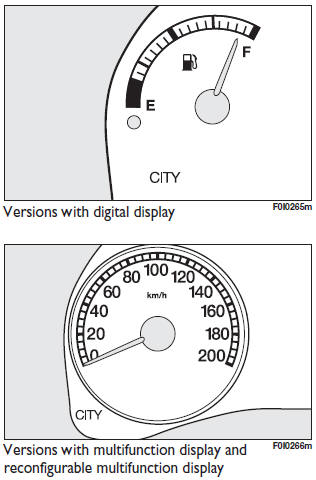 To connect/disconnect the CITY function, push the button located on the central tunnel .
Activation of this function is indicated by the word CITY on the instrument panel (see figures beside).
When the CITY function is on the steering wheel effort is lighter and thus parking operations are easier: therefore this function is particularly useful for driving in city centres.
Additionally, in Sporting versions, this function ensures a more comfortable drive by gradually dosing the accelerator pedal, suitably calibrated for acceleration and deceleration.
See also:
Brake System
In order to assure brake system performance, all brake system components should be inspected periodically. Refer to the "Maintenance Schedule" for the proper maintenance intervals. WARNING! Ridi ...
Left-hand and right-hand direction indicator
(green - intermittent) (Natural Power versions) The warning light turns on when the direction indicator control lever is moved downwards or, together with the right indicator, when the hazard war ...
Low engine oil pressure
(red) EXHAUST OIL (Multijet versions) (red) Low engine oil pressure Turning the ignition key to MAR the warning light turns on, but it should go out as soon as the engine is started. On certa ...