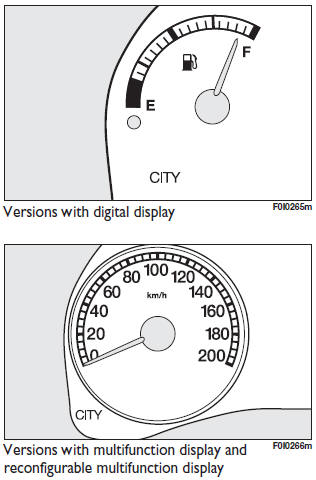 To connect/disconnect the CITY function, push the button located on the central tunnel .
Activation of this function is indicated by the word CITY on the instrument panel (see figures beside).
When the CITY function is on the steering wheel effort is lighter and thus parking operations are easier: therefore this function is particularly useful for driving in city centres.
Additionally, in Sporting versions, this function ensures a more comfortable drive by gradually dosing the accelerator pedal, suitably calibrated for acceleration and deceleration.
See also:
25. Temperature Gauge
The temperature digital scale shows engine coolant temperature. Any reading within the normal range indicates that the engine cooling system is operating satisfactorily. The gauge pointer will lik ...
Control buttons
To use the information the "Digital display", "Multifunction display" and "Reconfigurable multifunction display" are able to give (with the ignition key at MAR), you should firstly familiarise w ...
Sound system set-up
The system consists of: sound system power wires, front and rear speaker power wires, aerial and respective power wire four front door speakers (2 tweeters and 2 woofers) two rear full-range speak ...