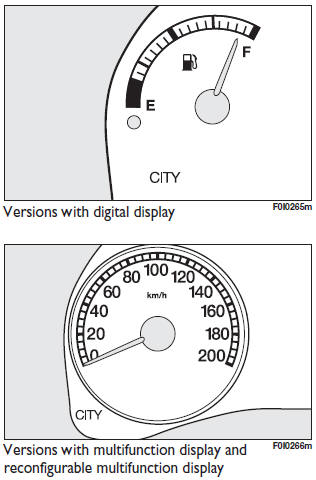 To connect/disconnect the CITY function, push the button located on the central tunnel .
Activation of this function is indicated by the word CITY on the instrument panel (see figures beside).
When the CITY function is on the steering wheel effort is lighter and thus parking operations are easier: therefore this function is particularly useful for driving in city centres.
Additionally, in Sporting versions, this function ensures a more comfortable drive by gradually dosing the accelerator pedal, suitably calibrated for acceleration and deceleration.
See also:
Failure Indications
A malfunction of the Rear Park Assist sensors or system is indicated, during REVERSE gear engagement, by the instrument panel warning icon. The warning icon is illuminated and a message is displa ...
Suggestions For Obtaining Service For YourVehicle
Prepare For The Appointment If you're having warranty work done, be sure to have the right papers with you. Take your warranty folder. All work to be performed may not be covered by the warranty. ...
Interior Care
Use MOPAR Total Clean or equivalent to clean fabric upholstery and carpeting. Use MOPAR Total Clean or equivalent to clean vinyl upholstery. MOPAR Total Clean or equivalent is specifically recommend ...