Max engine oil consumption is usually 400 grams every 1000 km.
During the beginning of the vehicle's life the engine is be tuned in. Engine oil consumption can only be considered stabilized after the first 5000 ÷ 6000 km.
IMPORTANT
Oil consumption depends on the driving style and the conditions of use.

Used engine oil and replaced oil filters contain substances which can harm the environment. We recommend you have the vehicle seen to at a Fiat Dealership for the oil and filter change. It is suitably equipped for disposing of used oil and filters in an environmentally- friendly way that complies with the law.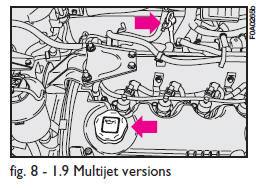 ENGINE COOLANT fig. 11
The coolant level shall be checked with cold engine and shall be within the MIN and MAX marks on the tank.
If the level is low, pour slowly a mixture of 50% distilled water and 50% PARA FLU UP of the FL Selenia Group through the filler neck until the level reaches MAX.
A 50-50 mixture of PARA FLU UP and distilled water gives freeze protection to –35°C.
For particularly hard climate conditions, we recommend use of a 60% PARA FLU UP and 40% demineralized water mixture.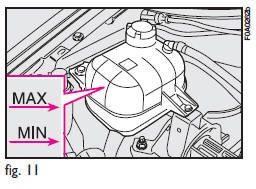 The engine cooling system uses protective antifreeze fluid PARA FLU UP. Use the same fluid type as that already in the cooling system when topping up. PARA FLU UP fluid cannot be mixed with any other type of fluid. Should it happen, under no circumstances start the engine; contact a Fiat Dealership.
See also:
Fuel reserve
(amber) Turning the ignition key to MAR the warning light turns on, but it should go off after few seconds. The warning light turns on when about 5-7 liters fuel are left in the tank. IMPORTANT ...
Interior Fuses
The interior fuse panel is part of the Body Control Module (BCM) and is located on the driver's side under the instrument panel. Fuse Panel ...
Transporting children safely
SERIOUS DANGER: Never place cradle child's seats not facing the running direction on the front seat of vehicles with passenger's airbag, which during inflation could cause serious injury, even ...