The key can be turned to 4 different positions fig. 26:
Ц STOP: engine off, key can be removed, steering column locked. Some electrical devices can be worked (e.g.
sound system, electric window winders).
Ц MAR: drive position. All electrical devices can be used.
Ц AVV: engine ignition.
Ц PARK: engine off, parking lights on, steering column locked. Press button A and turn the key to PARK.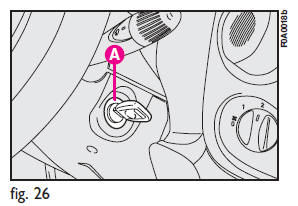 If the ignition device is tampered with (e.g.: attempted theft), have it checked over by a Fiat Dealership as soon as possible.

When you get out of the vehicle, always remove the ignition key. This will prevent anyone from accidentally working the controls. Remember to apply the handbrake and, if the vehicle is faced down on a steep slope engage the first gear.
If it is facing up, engage the reverse gear. Never leave unsupervised children in the vehicle.
STEERING COLUMN LOCK
To engage the lock: remove the ignition key at STOP or PARK and turn the steering wheel until it locks.
To release the lock: rock the steering wheel slightly as you turn the ignition key to MAR.

Never remove the ignition key while the vehicle is moving. The steering wheel would automatically lock as soon as you try to turn it. This also applies when the vehicle is being towed.

It is absolutely forbidden to carry out whatever after- market operation involving steering system or steering column modifications (e.g.: installation of anti-theft device) that could badly affect performance and safety, cause the lapse of warranty and also result in non-compliance of the vehicle with homologation requirements.
See also:
Audio repetition (Audio Rpt.) (where provided)
With this function the display repeats information relevant to the Radio (selected radio station frequency or RDS message, automatic tuning or AutoSTore), audio CD (track number). ...
Body Lubrication
Locks and all body pivot points, including such items as seat tracks, door hinge pivot points and rollers, liftgate, tailgate, sliding doors and hood hinges, should be lubricated periodically with ...
Extending the boot
Single rear seat Proceed as follows: ❒ fasten the seat buckles to the tabs on the seat back (as shown by arrows); ❒ check that the webbing (A) of each of the two side seat belts is ...