Loading ramps are available at Line accessory Fiat.

Loading with ramps shall be only carried out with the vehicle stationary and handbrake engaged.

Never move the vehicle with ramps extracted.
Before restarting the vehicle always check that ramps are properly secured into their housings.
To use the rear ramp fig. 137, strictly follow the instructions shown on the plate applied on the left side of the boot.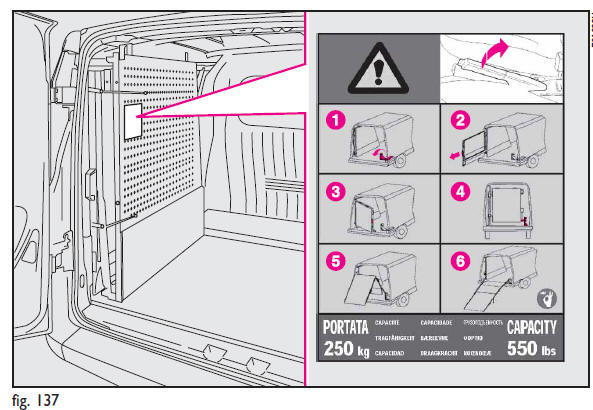 IMPORTANT
Max. rear ramp carrying capacity is 250 kg.
To use the side ramp, fig. 138, open the side sliding door, take handle A and take out the ramp as shown by the arrow until locking it.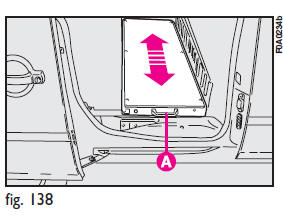 See also:
Driving Through Water
Driving through water more than a few inches/ centimeters deep will require extra caution to ensure safety and prevent damage to your vehicle. ...
19. Engine Temperature Warning Light
This light warns of an overheated engine condition. The engine coolant temperature indicator will illuminate and a single chime will sound after reaching a set threshold. If the light turns on w ...
Partitions
Fixed panel partition Certain Fiat Doblò Cargo paneled versions fit a fully paneled partition. Fixed partition with window Certain Fiat Doblò Cargo paneled versions fit a fixed panel ...