Versions with one sliding side door (on passenger side)
From passenger's side: open the sliding side door.
From driver's side: pull handle Ffig. 59a upwards to tip the seat back.
Once you have let go of the lever, check that the seat is firmly locked in the runners by trying to move it back and forth.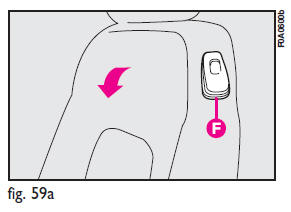 In the event of an emergency, you can get out of the rear seats from the driver's side by tilting the driver's seat.
Versions with two sliding side doors
Open either of the two sliding side doors to access the rear seats.

You cannot open the left-hand sliding side door while refueling when the flap is open (see "At the filling station" in this section).
7-seat versions
To access the third row:
– open the side sliding door;
– lower the head restraints (if set in the normal position of use) (see paragraph "Head restraints");
– release lever A-fig. 59b and fold the seat forward onto the cushion;
– raise the whole cushion fig. 59c.
To get out of the vehicle, reverse the above operations and make sure head restraints are lowered.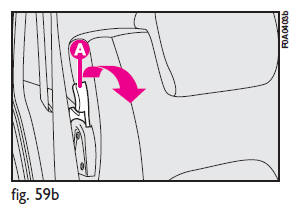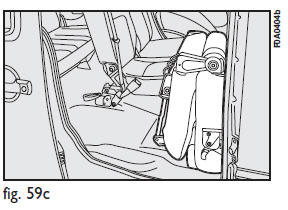 IMPORTANT
It is forbidden to travel with the second row seats tipped and third row seats set in normal position of use. More particularly, if the central seat of the second row is tipped and that of the third row is set in normal position of use, a buzzer will sound to indicate the wrong seat position.

It is absolutely forbidden to travel with the second row seats tipped and passengers seated on the third row seats (as specified on the seat label).
See also:
Engine Oil Filter
The engine oil filter should be replaced with a new filter at every engine oil change. Engine Oil Filter Selection All of this manufacturer's engines have a full-flow type disposable oil filter. ...
9. Air Bag Warning Light
This light will turn on for four seconds as a bulb check when the ignition switch is first turned to ON/RUN. If the light is either not on during starting, stays on, or turns on while driving, h ...
Replacement Tires
The tires on your new vehicle provide a balance of many characteristics. They should be inspected regularly for wear and correct cold tire inflation pressure. The manufacturer strongly recommends ...