Folding the seat back
Lift lever A-fig. 54 to fold the seat back and obtain a tabletop.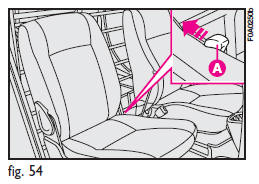 Tipping the seat
To tip the seat and make more space in the passenger compartment proceed as follows:
Ц tip the seat as described previously;
Ц use lever B-fig. 55 to tip the whole seat forward;
Ц lock the seat using the special rod A-fig. 56 and fitting it into slot B on the seat.
To return the seat to normal position, release rod A and then raise the seat.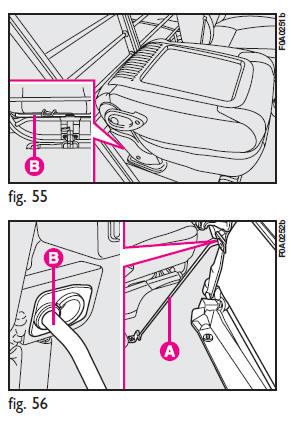 IMPORTANT
When folded, the seat shall be anchored by the proper rod С to prevent its violent returning to original position when accelerating.
See also:
Glow plugs
Turning the ignition key to MAR, the warning light on the dial comes on and goes off when glow plugs reach the preset temperature. Start the engine immediately after warning light switching off. ...
SOUND system
Large oddment compartments in the dashboard and doors which make the passenger compartment even more comfortable can be fond in cars not equipped with a sound system set-up. A specific kit can be ...
Rear window wash/wipe function
This device can only work when the ignition key is at MAR. To switch the rear window wiper on, turn the knurled ring from O to . To wash the window push the stalk towards the dashboard. On cert ...