The presence and the position of the instruments and warning lights may vary according to the versions.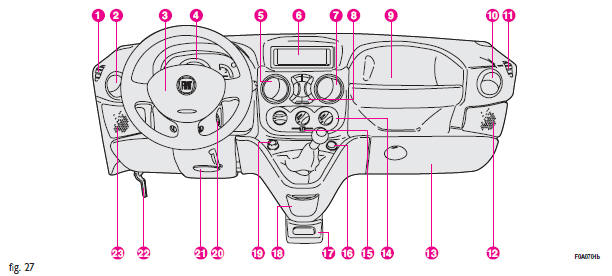 1. Fixed side vent
2. Adjustable side vent
3. Horn
4. Instrument panel
5. Adjustable central vent
6. Glove compartment
7. Adjustable central vent
8. Central controls
9. Glove compartment
10. Adjustable side vent
11. Fixed side vent
12. Front right-hand speaker housing
13. Glove compartment
14. Heater/ventilation/climate control system controls
15. Recirculation slider
16. Additional power socket
17. Glove compartment
18. Ashtray
19. Cigar lighter
20. Ignition switch
21. Steering wheel adjustment lever
22. Bonnet opening lever
23. Front left-hand speaker housing.
See also:
TIREFIT Kit Components And Operation
1. Sealant Bottle 2. Deflation Button 3. Pressure Gauge 4. Power Button 5. Mode Select Knob 6. Sealant Hose (Clear) 7. Air Pump Hose (Black) 8. Power Plug Using The Mode Select Knob And Hose ...
"Consumption unit" (Consump.)
This function enables to select the unit of measure for fuel consumption (km/l, l/100 km or mpg) according to the previously set distance unit (km or mi, see previous paragraph "Distance unit"). T ...
If the battery is flat
IMPORTANT Battery recharging procedure is given as information only since this operation shall be only performed at a Fiat Dealership. Charging should be slow at a low amp rating for 24 hours. Char ...