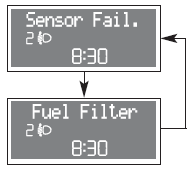 The warning light on the dial comes on (on certain versions together with the message on the display) when dieel fuel filter sensor failure is detected. Contact Fiat Dealership as soon as possible to have the fault removed.
See also:
Passenger seat compliance with regulations on child's seat use
Fiat Punto complies with the new Directive 2000/3/EC regulating child's seat assembling on the different car seats according to the following tables: Front and rear seat (3 and 5-door versions) ...
General Information
• You can launch the vehicle from a stop in first, second, or third gear. The system will ignore attempts to shift into a higher gear if the engine speed is too low. An audible beep will sound if ...
Provisions for the processing of a vehicle at the end of its life-cycle
For years now Fiat has been developing its global commitment towards the safeguarding and protection of the Environment through the continuous improvement of its production processes and the makin ...