For children from 22 kg up to 36 kg the size of the child's chest no longer requires a support to space the child's back from the seat back.
Fig. 17 shows proper child seat positioning on the rear seat.
Children taller than 1.50 m can wear seat belts like adults.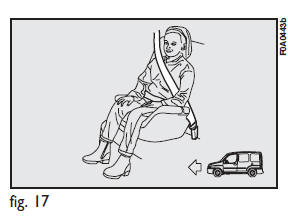 Passenger seat compliance with regulations on child's seat use
Fiat Doblò complies with the new EC Directive 2000/3/CE regulating child's seat assembling on the different vehicle seats according to the table below:

Key:
U = suitable for child restraint systems of the "Universal" category, according to European Standard ECE-R44 for the specified "Groups".
X = Unsuitable for children in this group.
To sum up the safety precautions to follow when transporting children
1) The recommended position for installing child's seat is on the rear seat, as it is the most protected in the case of a crash.

In vehicles fitted with passenger airbag, never place child's restraint systems on the front seat.
2) If the passenger's airbag is deactivated always check the warning light

on the instrument panel to make sure that it has actually been deactivated.
3) Attain to the instructions for fastening the specific child restraint system which you are using. These instructions must be provided by the manufacturer. Keep the child restraint system installation instructions with the vehicle documents and with this Handbook. Never use a child restraint system without installation instructions.
4) Always check the seat belt is well fastened by pulling the webbing.
5) Only one child is to be strapped to each retaining system.
6) Always check the seat belts do not fit around the child's throat.
7) While traveling, do not let the child sit incorrectly or release the belts.
8) Passengers should never carry children on their laps. No-one, however strong they are, can hold a child in the event of a crash.
9) Replace the child restraint system after an accident.
See also:
Auto-Down — If Equipped
The driver's door window switch may have an Auto- Down feature. Press the window switch for approximately one second, release, and the window will go Power Window Switches 2 THINGS TO KNOW BEFORE ...
Engine coolant fluid
The coolant level shall be checked with cold engine and shall be included between the MIN and MAX mark on the reservoir. If the level is low, pour slowly a mixture of 50% distilled water and 50 ...
Technology in action
In its various previous guises, the Punto has been renowned for a high level of exciting and innovative technology. It became the first car in the supermini sector to feature an in-built infotainm ...