The belt should be worn keeping the chest straight and rested against the seat back.
Take hold of the tongue A-fig. 6. Insert it into the buckle B, until you hear it clicks.
At removal, if it jams, let it rewind for a short stretch, then pull it out again without jerking.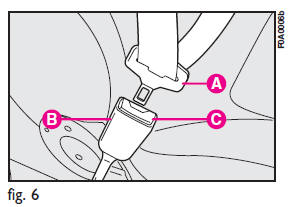 Never press button C when traveling.
To unfasten the seat belts, press button C. Guide the seat belt with your hand while it is rewinding, to prevent it from twisting.
Through the reel, the belt automatically adapts to the body of the passenger wearing it, allowing freedom of movement.
When the vehicle is parked on a steep slope the reel mechanism may block; this is normal. The reel mechanism prevents the webbing coming out when it is jerked or if the vehicle brakes sharply, as in a collision or when cornering at high speed.
Every rear seat (where provided) is fitted with inertial seat belts with three anchor points and reel.
IMPORTANT
Before fastening the seat belts make sure the seat is properly anchored.
7-seat versions
In the 7-seat versions, every rear seat (second and third row) is fitted with seat belts with three anchor points and reel fig. 7.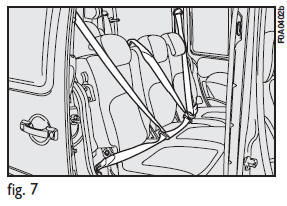 Remember that in the case of a violent collision, back seat passengers not wearing seat belts also represent a serious danger to the passengers in the front seats.
See also:
Battery
The battery is of the "Limited maintenance" type: under normal conditions of use the electrolyte does not need topping up with distilled water. CHECKING THE CHARGE fig. 22 The battery charge may b ...
Starting procedure for petrol versions
Proceed as follows: ❒ Ensure that the handbrake is up; ❒ Put the gear lever into neutral; ❒ Press the clutch pedal down to the floor without touching the accelerator; ❒ ...