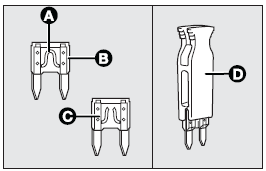 The fuse is a protective device for the electric system: it comes into action (i.e. it cuts off) mainly due to a fault or improper action on the system.
When a device does not work, check the efficiency of its fuse. The conductor element (A) must be intact. If not, replace the fuse with one of the same amp rating (same colour).
(B): undamaged fuse
(C): fuse with damaged filament.
To facilitate fuse replacement, use the pliers (D) located in the fuse box.
Never replace a fuse with metal wires or anything else.
WARNING
Never replace a fuse with another with a higher amp rating; DANGER OF FIRE.
WARNING
If a general fuse (MAXI-FUSE) cuts in, do not attempt any repair and contact a Fiat Dealership. Before replacing a fuse, make sure the ignition key has been removed and that all the other services are switched off and/or disengaged.
WARNING
If fuse blows again, contact a Fiat Dealership.
See also:
Radial-Ply Tires
WARNING! Combining radial-ply tires with other types of tires on your vehicle will cause your vehicle to handle poorly. The instability could cause an accident. Always use radial-ply tires in se ...
Glow plugs
Turning the ignition key to MAR, the warning light on the dial comes on and goes off when glow plugs reach the preset temperature. Start the engine immediately after warning light switching off. ...
General Information
The radio offers the following functions: Radio Section Х PLL tuning with FM/AM/MW frequency bands Х RBDS (Radio Broadcast Data System) Х Automatic/manual station tuning Х FM Multipath detector ...