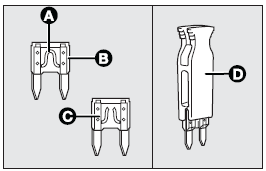 The fuse is a protective device for the electric system: it comes into action (i.e. it cuts off) mainly due to a fault or improper action on the system.
When a device does not work, check the efficiency of its fuse. The conductor element (A) must be intact. If not, replace the fuse with one of the same amp rating (same colour).
(B): undamaged fuse
(C): fuse with damaged filament.
To facilitate fuse replacement, use the pliers (D) located in the fuse box.
Never replace a fuse with metal wires or anything else.
WARNING
Never replace a fuse with another with a higher amp rating; DANGER OF FIRE.
WARNING
If a general fuse (MAXI-FUSE) cuts in, do not attempt any repair and contact a Fiat Dealership. Before replacing a fuse, make sure the ignition key has been removed and that all the other services are switched off and/or disengaged.
WARNING
If fuse blows again, contact a Fiat Dealership.
See also:
Interior Fuses
The interior fuse panel is part of the Body Control Module (BCM) and is located on the driver's side under the instrument panel. Fuse Panel ...
Starting procedure for petrol versions
Proceed as follows: ❒ Ensure that the handbrake is up; ❒ Put the gear lever into neutral; ❒ Press the clutch pedal down to the floor without touching the accelerator; ❒ ...
Conditions of use
Cold starting Short journeys and frequent cold starts do not allow the engine to reach optimum operating temperature. This results in a significant increase in consumption levels (from +15 to +30 ...