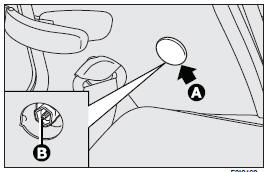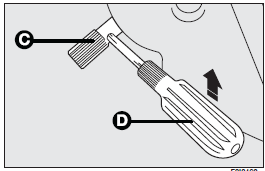 To change the bulb, proceed as follows:
❒ from inside the car, remove the upper plastic cover (A) with the screwdriver provided to reach fastener (B);
❒ from inside the boot, fit extension (C) on the light cluster fastening nuts;
❒ insert the provided screwdriver (D) in the hole in the extension and loosen the light cluster fastening nuts;
❒ withdraw the connector and loosen the fastening screws shown in the figure by the arrows;
❒ remove the bulbs by pushing them slightly and turning them anticlockwise (bayonet coupling).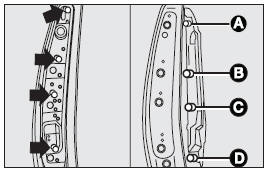 The bulbs are arranged inside the light unit as follows:
(A) - Side/taillight bulb
(B) - Brake light bulb
(C) - Direction indicator bulb
(D) - Bulb for:
❒ left-hand cluster: rear fog light
❒ right-hand cluster: reversing light.
See also:
Transporting children safely
SERIOUS DANGER: Never place cradle child's seats not facing the running direction on the front seat of vehicles with passenger's airbag, which during inflation could cause serious injury, even ...
The Hands-Free Kit
The basic characteristic of this hands-free kit is voice recognition with Bluetooth wireless technology. With this system you can make and receive calls safely and securely by using either voice c ...
Introduction
The radio has been designed according to the specifications of the passenger compartment, with a personalized design to match the style of the dashboard. If the radio has BLUE&ME™, refer to the ...