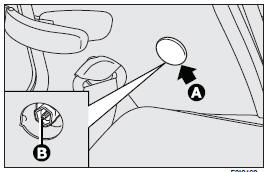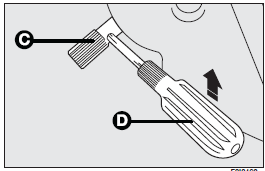 To change the bulb, proceed as follows:
❒ from inside the car, remove the upper plastic cover (A) with the screwdriver provided to reach fastener (B);
❒ from inside the boot, fit extension (C) on the light cluster fastening nuts;
❒ insert the provided screwdriver (D) in the hole in the extension and loosen the light cluster fastening nuts;
❒ withdraw the connector and loosen the fastening screws shown in the figure by the arrows;
❒ remove the bulbs by pushing them slightly and turning them anticlockwise (bayonet coupling).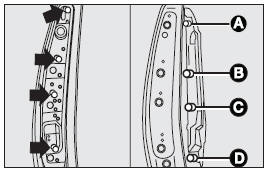 The bulbs are arranged inside the light unit as follows:
(A) - Side/taillight bulb
(B) - Brake light bulb
(C) - Direction indicator bulb
(D) - Bulb for:
❒ left-hand cluster: rear fog light
❒ right-hand cluster: reversing light.
See also:
Engine coolant fluid
The coolant level shall be checked with cold engine and shall be included between the MIN and MAX mark on the reservoir. If the level is low, pour slowly a mixture of 50% distilled water and 50 ...
Mix Mode
Air comes from the floor, defrost and side window demister outlets. This mode works best in cold or snowy conditions. It allows you to stay comfortable while keeping the windshield clear. ...
Cellular phone set-up
The system set-up consists of: Ц a dual-purpose aerial (sound system + cellular phone), on the vehicle roof; Ц a dual-purpose aerial connection wires and ten-pin connector wiring fig. 146. Ц a do ...