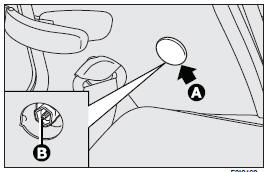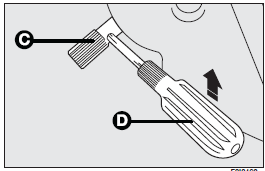 To change the bulb, proceed as follows:
❒ from inside the car, remove the upper plastic cover (A) with the screwdriver provided to reach fastener (B);
❒ from inside the boot, fit extension (C) on the light cluster fastening nuts;
❒ insert the provided screwdriver (D) in the hole in the extension and loosen the light cluster fastening nuts;
❒ withdraw the connector and loosen the fastening screws shown in the figure by the arrows;
❒ remove the bulbs by pushing them slightly and turning them anticlockwise (bayonet coupling).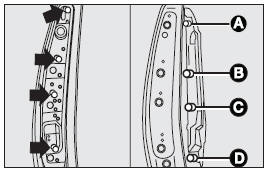 The bulbs are arranged inside the light unit as follows:
(A) - Side/taillight bulb
(B) - Brake light bulb
(C) - Direction indicator bulb
(D) - Bulb for:
❒ left-hand cluster: rear fog light
❒ right-hand cluster: reversing light.
See also:
Activation
The sensors are automatically activated when the reverse gear is engaged. The sound produced by the acoustic alarm becomes louder when the distance between the car and the obstacle decreases. ...
Protection from atmospheric agents
The main causes of corrosion are the following: ❒ atmospheric pollution; ❒ salty air and humidity (coastal areas, or hot humid climates); ❒ seasonal environment conditions. No ...
Manual Heating And Air Conditioning
Manual Temperature Control (MTC) 1. Temperature Control Rotate this control to regulate the temperature of the air inside the passenger compartment. Rotating the dial to the left into the blue ...