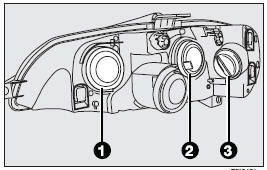 The front light units contain: sidelights, dipped beam, main beam and direction indicator bulbs.
The bulbs are arranged inside the light unit as follows:
(1): sidelights/main beam headlights;
(2): dipped beam headlights;
(3): direction indicators.
IMPORTANT After replacement, refit the covers correctly checking that they are properly secured.
See also:
Wind Stop
TheWind Stop installs in the backseat area of the vehicle. The Wind Stop will not interfere with power top operation. Therefore, it can remain installed when the top is up. ...
Six-Speed Automatic Transmission
The shift lever position display (located in the instrument panel cluster) indicates the transmission gear range. You must press the brake pedal to move the shift lever out of the PARK position (R ...
Traction Control System (TCS)
This system monitors the amount of wheel spin of each of the driven wheels. If wheel spin is detected, brake pressure is applied to the slipping wheel(s) and engine power is reduced to provide enh ...