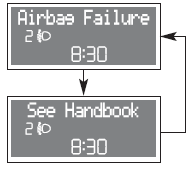 Turning the ignition key to MAR the warning light on the dial turns on, but it should go off after few seconds. The warning light stays on glowing steadily (on certain versions together with the message on the display) if there is a failure in the air bag system.
WARNING
If the

warning light does not turn on when turning the ignition key to MAR or if it stays on when travelling, this could indicate a failure in safety retaining systems; under this condition air bags or pretensioners could not trigger in the event of collision or, in a restricted number of cases, they could trigger accidentally. Stop the car and contact Fiat Dealership to have the system checked immediately.
WARNING
The failure of the

warning light (warning light off) is also indicated by the flashing for more than the normal seconds of the passenger's front air bag deactivated warning light

.
See also:
Diesel engines
If the outside temperature is very low, the diesel thickens due to the formation of paraffins and could clog the diesel fuel filter. In order to avoid these problems, different types of diesel are ...
TIREFIT Usage Precautions
• Replace the TIREFIT Sealant Bottle (1) and Sealant Hose (6) prior to the expiration date (printed on the bottle label) to assure optimum operation of the system. Refer to "Sealing a Tire with TIR ...
Installing the tow hook
The towing device should be fastened to the body by specialised personnel according to any additional and/or integrative information supplied by the Manufacturer of the device. The towing device ...