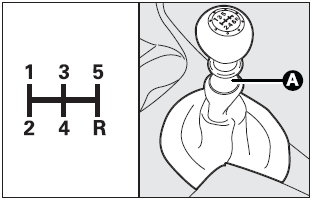 To engage the gears, press the clutch pedal fully and shift the gear lever into one of the required positions (the diagram is shown on the knob).
IMPORTANT The car can only be put into reverse gear when it has stopped moving completely. With the engine running, before engaging the reverse, wait at least 2 seconds with the clutch pedal fully down to prevent damage and grating of the gears.
To engage reverse (R) from neutral proceed as follows:
❒ for 1.28V versions, lift the sliding ring (A) under the knob and shift the lever to the right and back;
❒ for 1.3 Multijet versions, just shift the lever to the right and back.
WARNING
To change gears properly you must push the clutch pedal fully down. It is therefore essential that there is nothing under the pedals: make sure mats are lying flat and do not get in the way of the pedals.
Do not drive with your hand resting on the gear lever as the force exerted, even if slight, could lead over time to premature wear on the gearbox internal components.
See also:
Dynamic and distinguished
The new 2012 Fiat Punto maintains the model's instantly recognisable and dynamic shape but it's been made even more elegant and characterful thanks to a host of detail changes, inside and out. O ...
Set clock
To adjust the time, press button (+) to increase minutes, button (–) to decrease minutes. Every press on the button increases or decreases by one unit. Keeping the corresponding button pressed o ...
Rain sensor
The rain sensor is behind the driving mirror in contact with the windscreen and has the purpose of automatically adjust, during the intermittent operation, the frequency of the windscreen wiper ...