The handbrake lever is located between the two front seats.
Pull the handbrake lever upwards until the car cannot be moved. Four or five clicks are generally enough when the car is on level ground while nine or ten may be required if the car is on a steep slope or laden.
IMPORTANT If this is not the case, contact Fiat Dealership to have the handbrake adjusted.
When the handbrake lever is pulled up and the ignition key is at MAR the panel warning light
will come on.
WARNING
Never leave children unattended in the car. Always remove the ignition key when leaving the car and take it out with you.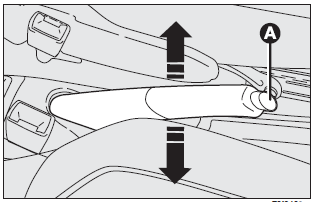 To release the handbrake:
❒ Slightly lift the handbrake and press release button (A);
❒ Keep button (A) pressed in and lower the lever. Warning light x will go out.
Press the brake pedal when carrying out this operation to prevent the car from moving accidentally.
See also:
Bonnet
To open the bonnet This should only be done when the vehicle is stationary. Before opening the bonnet, check the windscreen wiper arms are not lifted from the windscreen. 1) Pull the yellow leve ...
Cigar Lighter — If Equipped
WARNING! When the cigar lighter is in use it becomes very hot. To avoid serious injury, handle the cigar lighter with care. Always check that the cigar lighter has turned off. ...
Ashtray
For front passengers Pull the flap towards yourself. Remove the ashtray (B) by pulling it upwards as shown by the arrow for emptying it. For rear passengers For rear passengers there is a con ...