The handbrake lever is located between the two front seats.
Pull the handbrake lever upwards until the car cannot be moved. Four or five clicks are generally enough when the car is on level ground while nine or ten may be required if the car is on a steep slope or laden.
IMPORTANT If this is not the case, contact Fiat Dealership to have the handbrake adjusted.
When the handbrake lever is pulled up and the ignition key is at MAR the panel warning light
will come on.
WARNING
Never leave children unattended in the car. Always remove the ignition key when leaving the car and take it out with you.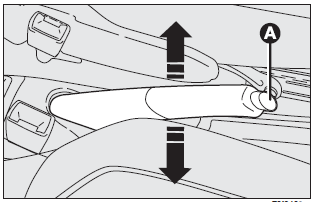 To release the handbrake:
❒ Slightly lift the handbrake and press release button (A);
❒ Keep button (A) pressed in and lower the lever. Warning light x will go out.
Press the brake pedal when carrying out this operation to prevent the car from moving accidentally.
See also:
If You Need Assistance
The manufacturer and its authorized dealers are vitally interested in your satisfaction. We want you to be happy with our products and services. Warranty service must be done by an authorized deale ...
Extending the boot
Split seat Before setting off, make sure that the seats in the direction of travel and perfectly fastened to the anchoring. Only in this position can be seat belts be used correctly. The boot can ...
Cleaning The Rear Park Assist System
Clean the Rear Park Assist sensors with water, car wash soap and a soft cloth. Do not use rough or hard cloths. In washing stations, clean sensors quickly keeping the vapor jet/high pressure washi ...