The handbrake lever is located between the two front seats.
Pull the handbrake lever upwards until the car cannot be moved. Four or five clicks are generally enough when the car is on level ground while nine or ten may be required if the car is on a steep slope or laden.
IMPORTANT If this is not the case, contact Fiat Dealership to have the handbrake adjusted.
When the handbrake lever is pulled up and the ignition key is at MAR the panel warning light
will come on.
WARNING
Never leave children unattended in the car. Always remove the ignition key when leaving the car and take it out with you.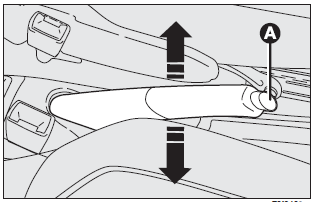 To release the handbrake:
❒ Slightly lift the handbrake and press release button (A);
❒ Keep button (A) pressed in and lower the lever. Warning light x will go out.
Press the brake pedal when carrying out this operation to prevent the car from moving accidentally.
See also:
Operation
Each time the ignition key is turned to STOP, or PARK, the protection system will automatically immobilise the engine. When the key is turned to MAR to start the engine: 1) if the code is recognis ...
Rev counter
Rev. counter B-fig. 33 - 34 shows engine rpm. IMPORTANT The electronic system progressively blocks fuel flow to prevent engine from overrevving. This will lead to a progressive loss of engine po ...
Wing window
IMPORTANT Open and close the wing window only when the vehicle is stationary. The Fiat Doblò may fit a handy wing window on the roof on the back of the load compartment to carry long object ...