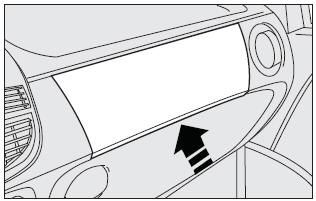 It consists of an instant-inflating cushion contained in a special recess in the dashboard; its volume is bigger than the driver's one.
The driver's and passenger's front Air bags have been designed and calibrated to improve the protection of a person wearing seat belts.
At their maximum inflation, their volume fills most of the space between the dashboard and the passenger.
WARNING
SERIOUS DANGER: The car is fitted with an air bag on the passenger's side. Never place cradle child's seats on the front passenger's seat of cars fitted with passenger's air bag since the air bag activation could cause serious injuries, even mortal.
WARNING
On cars provided with front passenger's air bag, the air bag shall be deactivated when placing a child' seat on the front passenger's seat. The front passenger seat shall be adjusted in the most backward position to prevent any contact between child' seat and dashboard. Even if not compulsory by law, you are recommended to reactivate the air bag immediately as soon as child transport is no longer necessary.
See also:
How to use the gears
Press the clutch fully before shifting the gear stick into one of the positions shown in the diagram in fig. 2 (the diagram is also on the gear lever knob). IMPORTANT Only engage the reverse gear ...
With toggle lens
Press the short side of the lens fig. 91 to switch the light on and off. ...
Main beam headlights
To change the halogen bulb, proceed as follows: 1) Remove the protection cover Cfig. 18 turning it counterclockwise; 2) Release clip A-fig. 19, remove connector B and remove the bulb C. ...