The driver must comply with (and have the vehicle occupants follow) all the local legal regulations concerning the use of seat belts.
Always fasten the seat belts before starting.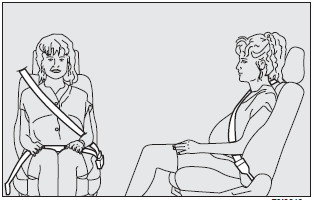 Seat belts are also to be worn by expectant mothers: the risk of injury in the case of accident is greatly reduced for them and the unborn child if they are wearing a seat belt. Of course they must position the lower part of the belt very low down so that it passes under the abdomen (as illustrated in the figure).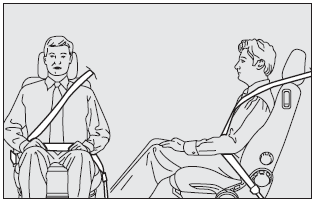 IMPORTANT The belt should not be twisted. The upper part should pass over the shoulder and cross the chest diagonally. The lower part should adhere to the pelvis and to the abdomen of the passenger (as illustrated in the figure). Do not use any objects (pegs, stoppers, etc.) to keep the belts away from the body.
WARNING
For maximum safety, keep the back of your seat upright, lean back into it and make sure the seat belt fits closely across your chest and hips. Make sure that the seat belts of the front and rear passengers are fastened at all times! You increase the risk of serious injury or death in a collision if you travel with the belts unfastened.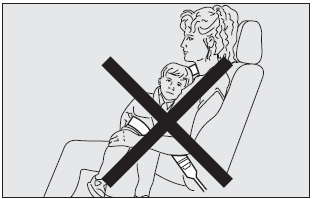 IMPORTANT Never travel with a child sitting on the passenger's lap with a single belt to protect them both. Do not fasten other objects to the body.
WARNING
Under no circumstances should the components of the seat belts and pretensioners be tampered with or removed. Any operation should be carried out by qualified and authorised personnel. Always contact a Fiat Dealership.
WARNING
If the belt has been subjected to heavy stress, for example after an accident, it should be changed completely together with the anchors, anchor fastening screws and the pretensioners. In fact, even if the belt has no visible defects, it could have lost its resilience.
See also:
Transmission
CLUTCH Hydraulic, self-adjusting external control. GEARBOX Five forward gears and reverse with synchromesh for front gear engagement. Cyclical gear reduction and differential assembly incorporated ...
Tire Terminology And Definitions
...
ABS system
The car is fitted with an ABS braking system, which prevents the wheels from locking when braking, makes the most of road grip and gives the best control when emergency braking under difficult roa ...