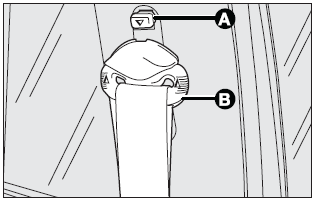 Always adjust the height of the seat belt to fit the person wearing it. This precaution could greatly reduce the risk of injury in case of collision.
Correct adjustment is obtained when the belt passes half way between the end of the shoulder and the neck.
Four different adjustments in height are provided.
To adjust, press button (A) and lower or raise the grip (B).
WARNING
Make the height adjustment when the car is stationary.
WARNING
After adjustment, always check that the slider is anchored in one of the positions provided. To do this, with the button (A) released, exert a further pressure to allow the anchor device to catch if release did not take place at one of the preset positions.
See also:
Engine Air Cleaner Filter
Refer to the "Maintenance Schedule" for the proper maintenance intervals. WARNING! The air induction system (air cleaner, hoses, etc) can provide a measure of protection in the case of engine bac ...
Spark plugs
The cleanness and soundness of the spark plugs are very important for keeping the engine efficient and polluting emissions down. The appearance of the spark plug, if examined by an expert eyes, is ...
Rev. counter
The rev. counter shows engine rpm. The needle pointed to the danger area (red on certain versions) indicates excessive high engine speed. Do not drive for long periods with the needle in this ar ...