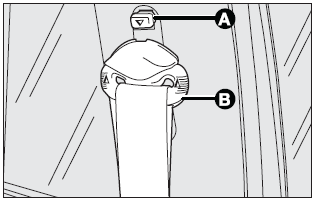 Always adjust the height of the seat belt to fit the person wearing it. This precaution could greatly reduce the risk of injury in case of collision.
Correct adjustment is obtained when the belt passes half way between the end of the shoulder and the neck.
Four different adjustments in height are provided.
To adjust, press button (A) and lower or raise the grip (B).
WARNING
Make the height adjustment when the car is stationary.
WARNING
After adjustment, always check that the slider is anchored in one of the positions provided. To do this, with the button (A) released, exert a further pressure to allow the anchor device to catch if release did not take place at one of the preset positions.
See also:
Exhaust Gas
WARNING! Exhaust gases can injure or kill. They contain carbon monoxide (CO), which is colorless and odorless. Breathing it can make you unconscious and can eventually poison you. To avoid breath ...
Electronic Vehicle Information Center (EVIC)Setup Menu
The menu comprises a series of functions arranged in a cycle. Press the + and – buttons to access the different options and settings (setup). The setup menu can be activated by pressing the MENU ES ...
Periodic Safety Checks You Should Make OutsideThe Vehicle
Tires Examine tires for excessive tread wear and uneven wear patterns. Check for stones, nails, glass, or other objects lodged in the tread or sidewall. Inspect the tread for cuts and cracks. Ins ...