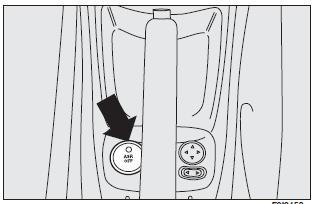 The ASR function switches on automatically each time the engine is started.
When travelling the device can be switched off and on again pressing switch ASR OFF on the centre console.
Switching on is indicated by the relevant message on the reconfigurable multifunction display (where provided) (see section "Warning lights and messages").
When the device is switched off this is shown by the lighting up of the led on the ASR OFF button and by the message on the reconfigurable multifunction display (see section "Warning lights and messages").
If the ASR function is switched off when travelling, it will turn on again automatically the next time the engine is started
When travelling on snow with snow chains, it may be helpful to turn the ASR device off: in fact, in these conditions, slipping of the driving wheels when moving off makes it possible to obtain better drive.
WARNING
The performance of the system, in terms of active safety should not induce the driver to take pointless and unnecessary risks. The style of driving must in any case always be adapted to the conditions of the road surface, visibility an traffic. Road safety is always the driver's responsibility.
See also:
Driving style
Starting Do not warm the engine when the vehicle is stationary or at high or low revs: in this way the engine will warm up gradually increasing consumption and emissions. You should drive off slo ...
Traction
When driving on wet or slushy roads, it is possible for a wedge of water to build up between the tire and road surface. This is known as hydroplaning and may cause partial or complete loss of vehi ...
Tire Rotation Recommendations
The tires on the front and rear of your vehicle operate at different loads and perform different steering, driving, and braking functions. For these reasons, they wear at unequal rates and tend to ...