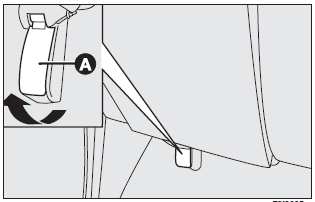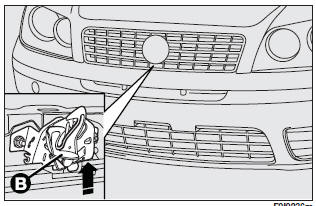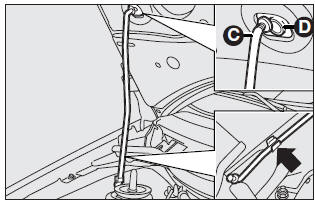 Proceed as follows:
❒ pull lever (A) in the direction of the arrow;
❒ press lever (B) as shown by the arrow;
❒ open the bonnet and release the rod (C) from its clip at the same time. Insert the end of the rod in its recess (D) on the bonnet.
IMPORTANT Before opening the bonnet, check the windscreen wiper arms are not lifted from the windscreen.
See also:
Rear foglights
The warning light on the dial turns on when the rear fog lights are turned on. ...
To reset the memorised speed
If the device has been disengaged for example pressing the brake or clutch pedal, the memorised speed can be reset as follows: ❒ accelerate gradually until reaching a speed approaching the o ...
Driving mirror
This mirror can be adjusted by means of lever A-fig. 64 1) anti-dazzle position. 2) normal position. The mirror is also fitted with a safety device that releases the mirror in the event of an imp ...