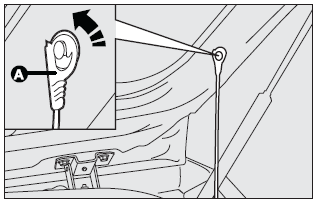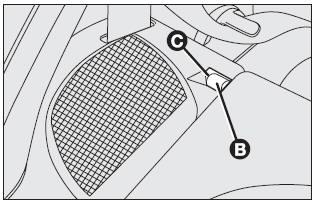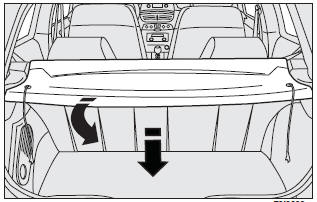 Proceed as follows:
❒ release the upper ends (A) of the two tie-rods by removing the eyelets;
❒ release the shelf eyelets (B) from their recesses (C);
❒ move the shelf towards the inside and turn it as shown in the figure to remove.
Once removed, the shelf can be placed sideways between the backs of the front seats and the cushion of the rear seat that has been tipped down.
IMPORTANT If there is a fairly heavy load in the boot and you are travelling at night, it is a good idea to check and adjust the height of the dipped beam headlights (see "Headlights" in this section).
See also:
Engine Air Cleaner Filter
Refer to the "Maintenance Schedule" for the proper maintenance intervals. WARNING! The air induction system (air cleaner, hoses, etc) can provide a measure of protection in the case of engine bac ...
Installing the tow hook
The towing device should be fastened to the body by specialised personnel according to any additional and/or integrative information supplied by the Manufacturer of the device. The towing device ...
Tire Pressure
Proper tire inflation pressure is essential to the safe and satisfactory operation of your vehicle. Three primary areas are affected by improper tire pressure: WARNING! • Improperly inflated tire ...