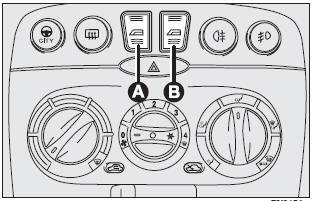 CONTROLS
Power windows are controlled by two switches located on the dashboard when the key is at MAR:
(A): to open/close the front left-hand window;
(B): to open/close the front right-hand window;
On certain versions the following is also possible:
❒ to open/close front windows within about 2 minutes with key at STOP or removed (with side doors closed);
❒ to press button (A) for longer than half a second to activate the automatic operation of the driver's window: the window will stop when it reaches the end of its travel or until the button is pressed again.
WARNING
Improper use of the electric windows can be dangerous. Before and during their operation ensure that any passengers are not at risk from the moving glass either by personal objects getting caught in the mechanism or by being injured by it directly. Always remove the ignition key when you get out of the car to prevent the electric windows being operated accidentally and constituting a danger to the people left in the car.
See also:
Interiors
Periodically check that water is not trapped under the mats (due to water dripping off shoes, umbrellas, etc.) which could cause oxidisation of the sheet metal. CLEANING SEATS AND FABRIC AND VELVET ...
Installing the tow hook
The towing device should be fastened to the body by specialised personnel according to any additional and/or integrative information supplied by the Manufacturer of the device. The towing device ...
Glove Box Compartment
The glove box is located on the right side of the instrument panel. Pull outward on the door latch to open the glove box. Push the glove box door upward to close it. Glove Box Compartment ...